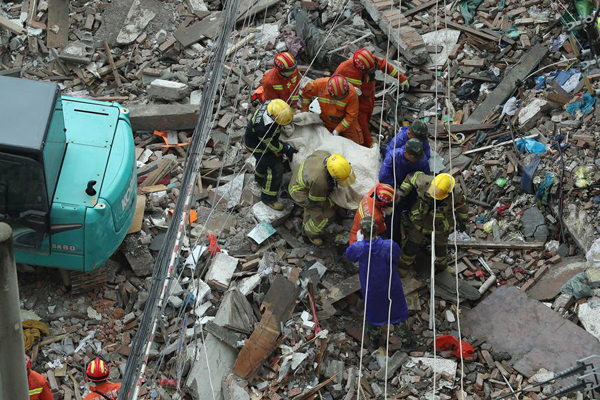 Rescuers carry a survivor to safety after four residential buildings collapsed on early Monday morning in Wenzhou, East China's Zhejiang province. [Photo/Xinhua]
Ten people were dead after four residential buildings in Wenzhou, East China's Zhejiang province, collapsed on the early morning of Monday.
Rescuers are still verifying the number of people buried under debris.
The disaster happened around 4 am in Wenzhou's Lucheng industrial district. As of 14:30, 15 people were rescued, but 10 of them were announced dead.
A resident living in an opposite building told Beijing News that he "heard a big bang following the sudden shaking of the apartment", and saw the opposite buildings had collapsed when he ran out.
The collapsed buildings were three- to five-storey tall and were self-built by local residents, according to a report of Beijing News.
Demolition of the buildings started two or three years ago, but somehow halted halfway, a local resident told Beijing News. The houses were later rented to migrant workers at relatively low prices, the man said.