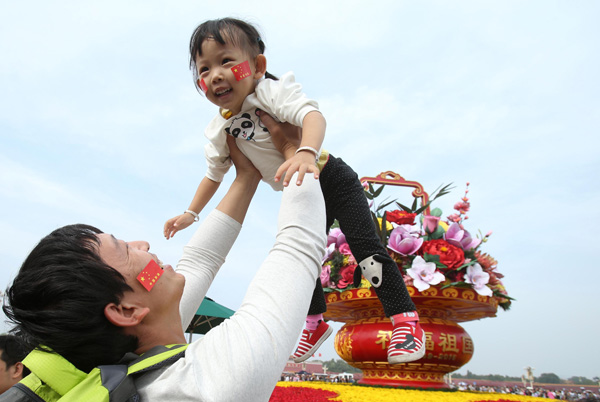 A father lifts his daughter for a picture at Tian'anmen Square in Beijing during the National Day holiday on Wednesday. [Photo by Chen Xiaogen/For China Daily]
Career path takes second place for 70% of young women surveyed
Many tag the young generation born in the 1990s as rebellious, and in some cases even selfish, yet a recent report revealed that when they become mothers, they tend to sacrifice more for their children - including their careers.
More than 70 percent of these young mothers choose to put their jobs aside to take care of their babies wholeheartedly, and they want to do it alone, without their parents' help.
By contrast, mothers born in the previous decade lean more toward the workplace. About 46 percent of those born in the 1980s maintain a full-time job, and nearly half of them want a helping hand from their parents, according to the 2016 National Parents-Children Relationship Report.
The research was jointly conducted by Vinda, a leading toilet paper company in China; the Institute of Population and Labor Economics of the Chinese Academy of Social Sciences; JD.com, a major e-commerce company; and Babytree.com, a popular online parenting community. The report was released on Monday.
Since April, the researchers contacted 7,501 families in different parts of China whose children are below 12 years old. They used Babytree's user database for online questions and combined the results with JD.com's consumer habits track.
They also found that children whose mothers have a full-time job are more likely to get along with their families and friends, though the exact reason was unclear.
Wang Guangzhou, a senior researcher with the Institute of Population and Labor Economics, who led the research, said the report to some extent filled in a blank in academics to focus on young parents who have two children or plan to have a second one. But Wang also admitted that the time spent was not enough and more efforts should be made in the future.
"Most of the things we found were just as we predicted. But I'm surprised to find out that so many young moms born after 1990 want to be full-time mothers," Wang said. "I think we should dig deeper into that in future research."
Wang said he and his team value the raw data collected in the research but plan to upgrade it to a more academic and systematic study to better answer people's concerns in the two-child policy era.
About half of parents are either raising a second child or seriously planning to do so, the report said. Their primary motivation is to provide the children with companionship.
For the others, who don't want another child, the main hindrance is the economic burden, the report said.
Before the project began, Wang said he thought most young parents would have a second child because of peer pressure, but the research found that only 7.2 percent were subject to the influence of others.