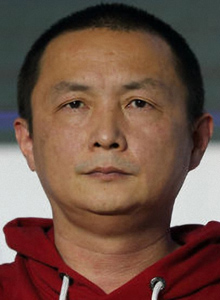 Zhang Rui, CEO of chunyuyisheng.com
44-year-old CEO of leading online platform is latest in line of early heart attacks in tech sector
The rapidly developing internet technology sector-whose employees are often under heavier pressure than other sectors-is once again in the spotlight following the sudden premature death of the founder of one of China's leading digital medical care service providers.
Zhang Rui, 44, CEO of chunyuyisheng.com, an online platform that provides medical care services such as advice and diagnoses, died of a heart attack on Wednesday night, according to an obituary released by the company on Thursday.
The platform, established in 2011, has 92 million registered users and nearly 500,000 registered doctors from major hospitals across China who provide answers to 330,000 questions on medical care online every day, according to the company.
Zhang started his career as a journalist and became an executive of NetEase, an IT company in China that runs one of China's biggest news portals, before setting up chunyuyisheng.com.
The death of Zhang has aroused heated public attention, with many showing astonishment. The obituary posted on the company's WeChat account had been read by more than 100,000 people as of Friday.
"I feel sad and was speechless to hear of Zhang's death," said Zhu Hengpeng, a researcher in medical reform at the Chinese Academy of Social Sciences. "I hope he has peace in heaven."
Zhang had been under very heavy work pressure in the past few years, and was under constant tension over fear of the company failing, causing mental and physical distress, according to previous media reports.
White collar workers in the IT industry in China on average worked 9.3 extra hours every week, the most among all sectors, according to a survey last year by Zhaopin.com, a major job-hunting website in China.
Zhang Haicheng, a doctor in cardiovascular diseases at Peking University People's Hospital, said cardiovascular diseases have become a major cause of death for Chinese due to the popularity of unhealthy lifestyles such as overeating, lack of physical exercise and smoking.
"Those prone to heart disease, such as those suffering hypertension, diabetes and obesity, should be cautious and change their lifestyles," he said.
Zhang is among a list of people working in IT-related sectors who have recently died prematurely.
Jin Bo, a 34-year-old editor at tianya.com, a popular online forum, died of a sudden heart attack at a subway station in Beijing in June after cardiopulmonary resuscitation by several passengers did not work.
In December, Li Junming, an employee of Tencent, a major IT company based in Shenzhen, Guangdong province, fainted and died while walking with his pregnant wife. Some of Li's colleagues said Li's death was partly attributable to the fact that he had been kept working overtime, and they demanded the company reduce working overtime to prevent another tragedy.
Factors that could cause a heart attack
1 Excessive heavy labor, such as climbing stairs with a heavy load, and heavy physical activities
2 Constant tension
3 Emotional excitement, tension and anger
4 Overeating
5 A sudden drop of temperature could cause a heart attack in those with cardiovascular diseases
6 Constipation
7 Smoking and excessive drinking of alcohol