A small town in South China's Guangxi Zhuang autonomous region is a cradle of weightlifters.
Shi Zhiyong won the weightlifting gold in the 69-kilogram class at the Rio Olympic Games on Aug 10, and more than anywhere else the ripples of his achievement were felt in Wutong, a small town in Guilin, Guangxi Zhuang autonomous region.
Since the 1960s, Wutong, with a population of about 60,000 today, has produced more than 70 medalists in international weightlifting competitions, including Tang Lingsheng, a gold medalist at the 1996 Olympics in Atlanta, United States. In Wutong, people have been practicing martial arts for more than 2,000 years. It has many legends about dalishi, or men with unusual strength, and in front of many homes there are huge stone blocks which residents use in different ways to boost their strength.
Lion dance during festivals provides is an important occasion for dalishi, as the show ends with a martial arts performance. It is also the best time for kungfu masters to demonstrate their skills and strength.
"Troupes from different villages regard it as a competition," says Li Zhijian, a 53-year-old Wutong resident. "The martial arts performance is a matter of pride for a village. Participants take it very seriously."
Wutong residents believe strength is the foundation of good martial arts. Li remembers his physical education teacher in primary school, who used a hammer to pound his back ostensibly to strengthen his body.
The Wutong Center Primary School, which Li refers to, is a cradle of weightlifting champions. Shi and Tang, Olympic gold medalists both, graduated from the school under the guidance of PE teacher Tang Yungui, now 65 years old, who has been helping school students realize their weightlifting potential for more than 30 years.
Guilin hosted the Guangxi weightlifting championship in 1958, which had a deep impact on Wutong residents. Xiao Mingxiang, the first Wutong resident to break a world weightlifting record in the 1960s became the pride of the town's residents.
Tang was a student of the school when his PE teacher, realizing he had more strength than his fellow students, encouraged him to practice barbells. "Barbells can be really heavy, but the PE teacher's guidance stimulated my interest," Tang says. "Since Xiao was my hero at that time, my dream was to break world record."
But the "cultural revolution" (1966-76) ended his regular training regime at his most productive age. So, after completing junior middle school, he had no choice but to fall back on farming. "I thought my relationship with weightlifting had ended," Tang says. But he didn't stop practicing weightlifting.
Come the 1980s and Tang joined the school as a PE teacher and weightlifting trainer with about 40 students under his wing, including Tang Lingsheng and Xiao Jiangang, nephew of Xiao Mingxiang and a bronze medalist at the Atlanta Games and gold medal winner at the 1997 World Weightlifting Championship. At that time, the team had only one set of barbells so stone blocks were used in training.
For more than 30 years, Tang's daily training regime has been the same. He leads students on a jogging drill along a river at 6 am, and conducts their training class after school. For parents, his team is an "amateur sports school". Tang often tells students that if they try their best, they can become world champions.
"Weightlifting is part of my life. I will not give it up till the last day of my life. This is the belief I live by," Tang says.
The central government gives a subsidy grant of 600 yuan ($91) per month for his contribution to weightlifting as a sports discipline. He lives in the school and works on the farm when he has time.
Although the school gym, built in 2010, can accommodate 100 students, their number has shrunk from about 50 in the 1990s to 10 today. This is a big source of concern for him. "In the 1980s and 1990s, poor families believed weightlifting would help their children climb up the social ladder," Tang says. "But today children have more choices to build a better future. Very few are ready to endure the physical hardship of weightlifting."
Tang's son Tang Huazhou has followed in his footsteps. He is a PE teacher and weightlifting coach in the same school. With a bachelor's degree in PE, Tang Huazhou, 34, thinks differently from his father.
"People of my father's generation thought more about national and family pride. But today's youths are more practical and have more choices to plan their career," he says. "I hope weightlifters can learn more practical knowledge and skills that will help them build their careers, especially after they retire from active sports."
The Wutong local government has decided to build a weightlifting-themed park. "Not everybody can lift three times his/her weight overhead, even for a few seconds," Tang Huazhou says. "But everybody can draw inspiration from sportsmanship and help preserve the spirit of sports."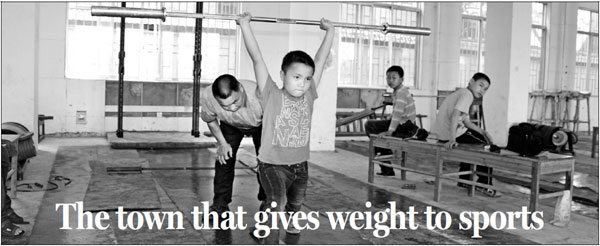 Tang Yungui (left), a 65-year-old primary school PE teacher and a farmer, gives weightlifting tips to his students in gym of the Center Primary School in Wutong, Guilin, Guangxi Zhuang autonomous region in late September. Tang has trained many world champions in weightlifting since the 1980s.Provided To China Daily