Having spent almost four decades fooling lawbreakers, an officer in Wuhan will finally return to his bed at night
Over the past 38 years, Wang Jianjun has pretended to be a beggar, a gambler and a hooligan, and has even learned to speak different dialects, leading to him being called an "Oscar-winning actor" for performances that have fooled many.
The 60-year-old is not an actor, but a policeman in Wuhan, capital of Central China's Hubei province. However, he is more devoted to his "play" than any other actors.
In the 1990s, a gang of thieves often disposed of their stolen goods with the help of a group of beggars. To investigate the case, Wang disguised himself and joined the beggars, eating and sleeping with them for more than one month. Though from Shanxi province, his convincing Henan dialect soon won him the trust of many of the beggars, who were from Henan province. Wearing shorts and a pair of old slippers, all Wang had with him was a dirty sleeping mat, giving him the appearance of a genuine beggar.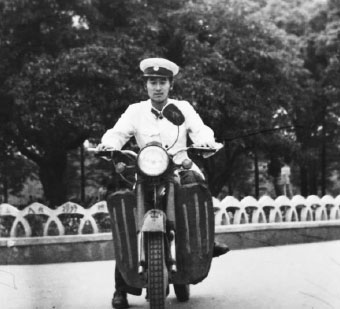 "I often invited them to drink spirits. Once they were drunk, they began to talk a lot," Wang recalled, adding that he noted down what the beggars said by excusing himself to use the toilet, and then sent the information back to his colleagues.
Although the gang, which had more than 20 members, was busted, Wang suffered an infection of lice for his troubles.
Many other cases Wang participated in were a lot more dangerous. Before he was transferred to the narcotics squad as a director in 2008, Wang caught several hundred criminals involved in murders or robberies.
While attempting to solve a case in the 1990s, Wang slipped into the home of a man involved in a criminal syndicate. Wang was discovered by the criminal and both men aimed guns at each other. After a brief standoff, the criminal dropped his weapon.
"He said: 'I know you are Wang Jianjun, who has been dealing with us for many years. I admire you very much'," Wang recalled.
Despite becoming a director and having the liberty of stepping back from the front line, Wang still choose to tackle criminals.
In summer 2014, the narcotics squad received a tip-off that drug dealers would do a deal near a park by the Yangtze River in Wuhan.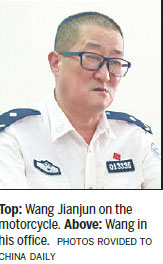 Dressed in a sleeveless shirt, shorts and slippers, and wearing a pair of black-framed glasses, Wang took on the appearance of a senior citizen who was resting in the shade on a hot day.
"The drug dealer glanced at me, so I pretended to make a phone call to a friend in the Shanxi dialect," Wang recalled.
Wang and his colleagues launched a sudden attack while the criminals were making the deal and seized 2 kg of narcotics.
Wang has mastered at least four Chinese dialects, including Sichuan and Henan, and his ability to change his accent has helped him in his job.
Wang, who is often in dangerous situations, is also a judo master and practices the martial art every morning. "As long as we are close to each other, no criminal can escape from me," he said.
When attempting to arrest a 1.8-meter-tall drug dealer in 2012, several of his colleagues failed to control the suspect. Wang stepped in and used a series of wrestling holds to restrain the man.
Wang's courage won him several honors, including a National May Day Laborer Medal and 11 Citations for Merit.
However, his family has sacrificed a lot.
Wang seldom returned home on weekdays, usually sleeping on the sofa in his office. He still maintains the habit, although he is due to retire this month. "On touching the sofa, I fall sleep. I feel more comfortable sleeping on the sofa than on my bed," he said.
Another habit Wang has kept since getting married in 1984 is to call his wife at 5 pm every day.
"If I have to work at the time, I will tell her in advance," he said. "My wife is an innocent woman who leads a frugal life. I don't want to make her worried."
Wang said he had to keep information about his family secret to ensure their safety.