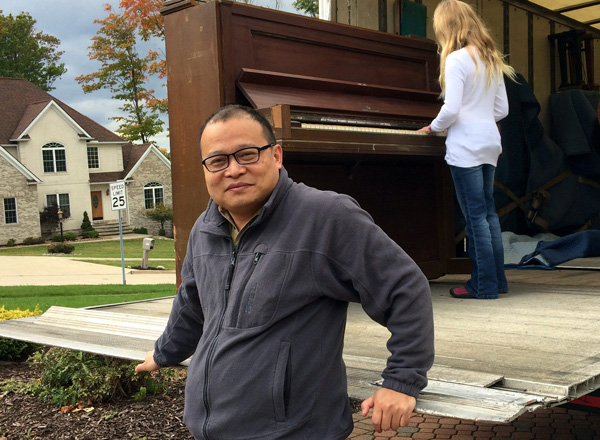 He Lijun poses in front of a piano he bought in Ohio, the United States, in 2012. [Provided To China Daily]
Head of private museum association in Hubei believes in sharing his passion for art
He cannot play the piano, yet he owns one of the biggest piano museums in China. He is not a painter, yet he just opened an art museum. He is not a mechanic, yet he invented a water-resistive barrier that could potentially help prevent flooding. He is not a tycoon, but simply immersed in his affections.
Born in Huanggang city, Hubei province, He Lijun started a company which deals with geological disaster treatment while studying for his master's degree at China University of Geosciences in Wuhan, the capital of the province.
His passion for pianos began during a trip to Missouri in 2010, when he was fascinated by the ivory keys and elegant craftsmanship of a piano made in 1911. After buying the instrument from its bankrupt owner, he began collecting and restoring more pianos.
"Rather than being a mere musical instrument, it's more like an artifact," He said. "I participate in the restoration work of every piano, as it requires a lot of thought and each restoration project involves a dialogue with the designer."
He had collected more than 70 pianos by the time he returned to China in 2013. In 2014, his piano museum was officially opened, which currently has more than 100 pianos on display.
The museum is located at Guqin Tai, which literally means "terrace of guqin (a Chinese zither)".
Legend has it that Bo Ya, a Chinese musician living about 2,400 years ago, once played the guqin at this location. The musician's piece was greatly appreciated by Zhong Ziqi, a woodcutter from nearby, and the two became close friends. However, at their scheduled meeting a year later, Ziqi failed to attend for he had died. Bo Ya was heart-stricken for he thought no one else could understand his music anymore, so he smashed the guqin and never played again.
"This is the place where Bo Ya and Ziqi became zhiyin - bosom friends, literally 'know music', " He said. "The traditional legend makes this an iconic place for classical music in Wuhan."
Despite the fact that many of the museum's exhibits, including more than 50 Steinway and Sons pianos - the acclaimed Rolls-Royce of pianos - are rare and precious, he insists on allowing visitors to experience playing some of them.
"I want to share my joy of music with visitors," he said. "Many museums are too uptight and old-fashioned. The famous piano museum in Xiamen even banned photo taking."
He's art museum opened in June this year at the same site.
"The city's private art museums demonstrate its humanistic culture," Fu Zhongwang, former curator of Hubei Museum of Art, said in an interview with Hubei Daily.
He was recently named president of an association of 34 private museums in Wuhan, all of which face funding problems. But He chooses to see the glass as half full.
"We are, after all, supplements to the public museums," He said. "We shouldn't care too much about profit, but more about the meaning of what we are doing."
Liang Shuang contributed to this story.