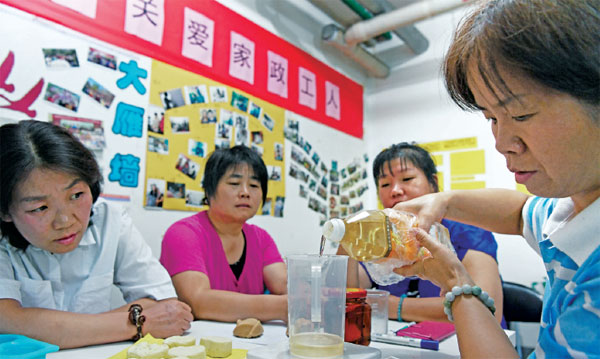 Domestic workers use edible oil to make soap during an activity to improve their household skills at a community in the Wangjing area of Beijing, on Sept 3. Wei Xiaohao / China Daily
Millions of women in China undertake household tasks for employers, but the hours are long and the use of informal contracts mean they are not protected by labor laws. Hou Liqiang reports.
In a windowless basement of a 30-story building, about a dozen female domestic workers were attending a meeting where they shared their employment experiences.
One of the attendees, a woman conducting market research for a local company, sparked a debate by asking the women if they had ever been subjected to verbal violence at work. The floodgates opened as the women related their experiences, while the researcher's attempts to change the subject were rebuffed.
Lying on the floor in a corner of the undecorated room was a blue-covered book called Let Destiny Go Away. There was no air conditioner in the 30-square meter room, and just one fan was working. Despite the stifling conditions, the complaints continued for more than an hour, interrupted only by the occasional sigh.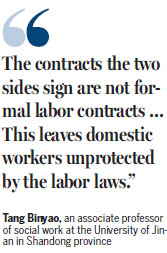 The scenario partly mirrored the situation of many domestic workers, who are depressed by their working conditions, even though they are relatively well paid.
In 2008, He Mingying, from the Inner Mongolia autonomous region, became a domestic worker, lured by the decent salary and low entry qualifications. However, the 58-year-old former housewife said the family she worked for "deliberately made life difficult" and she regretted her decision.
"I made about 800 yuan ($120) a month, but sometimes I only had two days off. The family said they paid me 100 yuan more than another domestic worker they knew, so they expected me to do more work," she recalled. "Instead of using a mop to clean the floor, they asked me to clean it by hand with a cloth."
To make matters worse, the family's elderly mother had an unusual body clock, which meant she slept during the day instead of at night, and He had to cook and undertake other chores for her, despite having already completed a full day's work.
Even though China's labor laws limit the working day to eight hours and the working week to 44 hours, He found no relief, so she quit her job after just three months.
However, incomes have been rising for several years, and in Beijing live-in workers earn an average monthly wage of about 4,500 yuan. In 2014, domestic workers' wages rose 20 percent from the previous year. In the same year, the average monthly wage for yuesao - live-in postpartum care workers - in Shanghai rose to 10,532 yuan in December from 8,322 yuan in January, according to a report published in June last year by the Department of Trade in Services and Commercial Services and the Chinese Academy of International Trade and Economic Cooperation for the Ministry of Commerce.
Casual employment
"Instead of being in an employer-employee relationship, most domestic workers are in an agent-service provider relationship with domestic service companies. The contracts the two sides sign are not formal labor contracts and the clients are not legal entities so the two sides can't sign labor contracts. This leaves domestic workers unprotected by the labor laws," said Tang Binyao, an associate professor of social work at the University of Jinan in Shandong province.
Earlier this year, He sustained ankle injuries when she was hit by a taxi as she rode her electric bike to the home of her pregnant employer after helping her during a medical examination at the hospital. Her treatment cost 3,000 yuan, and He was forced to rest at home, which meant she couldn't earn. Instead, she received just 500 yuan as compensation from her employer.
The lack of legal protection means domestic workers are often troubled by wage disputes. Li Changze, a spokesman for Ayilaile, an agency that supplies domestic services, said wage disputes occur with about 2 percent of their clients. Although the workers usually turn to arbitration to resolve the problem, sometimes the amount is too small and it isn't worth it.
In one recent case, a client refused to pay 2,000 yuan to a domestic worker the company had dispatched, and repeatedly ignored their phone calls, despite the agency's size and renown - more than 70,000 domestic workers who serve more than 100,000 clients nationwide have registered with Ayilaile.
Tang said a small number of domestic services agencies are attempting to forge employer-employee relationships with their domestic workers. However, the cost can be high because the providers have to make social insurance payments for the workers, and many agencies are hesitant to adopt the model because of concerns about becoming embroiled in disputes about work-related injuries and damage to property.
In 2014, an estimated 20.34 million people were working in China's domestic services industry, a rise of 13 percent from the previous year, according to the ministry.
Chen Jiyan, a program officer for domestic workers at the Beijing Hongyan Social Work Service Center, said workers find it almost impossible to work for just eight hours a day, especially if they live at their clients' homes.
Sometimes the clients' habits can affect the workers in other ways, according to Chen: "Some seniors lead such frugal lives that they ask their domestic workers to cook very little, which results in the workers - usually women from the rural areas who are accustomed to large meals - going without sufficient food."
One woman who attended the experience-sharing meeting said a client asked her to wash all the clothing and bed linen by hand, even though the family owned a washing machine.
According to Chen, few domestic workers who live with their clients are given their own room. "Most have to sleep on temporary beds set up on balconies or in the living room."
"Some clients even ban their domestic workers from talking with the neighbors because they are afraid their privacy may be compromised," she said, adding that there is a widespread belief that the job is demeaning, which means many domestic workers keep their work a secret, even from their families.
Exceptional care
Although many employers treat their domestic help poorly, there are always exceptions. Jia Huifeng, from Shanxi province, was moved by her client's caring behavior.
Last year, when the 55-year-old needed emergency surgery after a heart attack, her employer of seven years not only changed her schedule to help Jia, but also hired a woman to assist her while she recovered. "My boss even canceled a business trip to Vietnam and came to the hospital to see me," she recalled.
Jia is like most of the women at the experience-sharing meeting, who were in their 40s and 50s. The organizer, Chen Jiyan, has met more than 1,000 domestic workers. "Only one of them was in her 20s, but there were several in their 30s," she said.
He Minying's daughter works 11 hours a day at a foot massage parlor, but makes far less than she would as a domestic worker. However, she won't be following in her mother's footsteps.
"She said she will never be a domestic worker because it's a job that many people look down on," her mother said.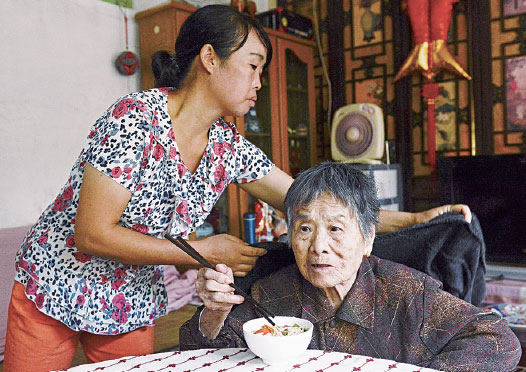 Zhang Aiai, a domestic worker from Gansu province, takes care of a 95-year-old woman at her home in downtown Beijing on Monday. Wei Xiaohao / China Daily