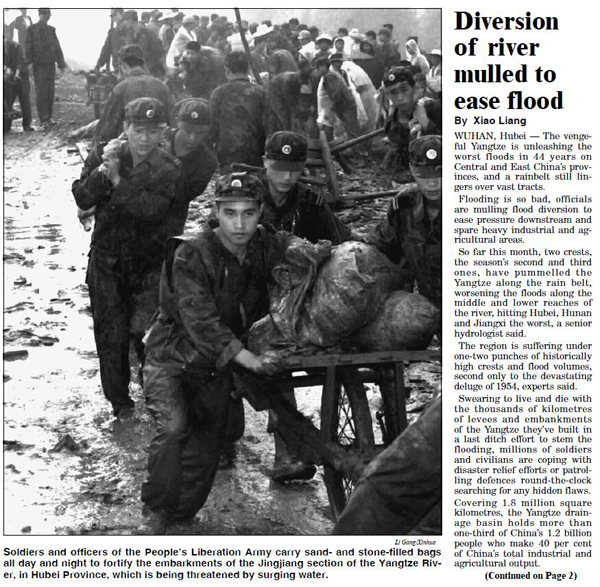 Item from July 27, 1998, in China Daily: People's Liberation Army soldiers carry sandbags to fortify the embankments of the Jingjiang section of the Yangtze River, in Hubei province, which is being threatened by surging water. The Yangtze is unleashing the worst floods in 44 years on Central and East China's provinces, and a rainbelt still lingers over vast tracts.
China has suffered frequent extreme weather events such as droughts and floods in the past few years due to climate change.
The recent heavy rain left 164 people dead and 125 missing in North China, according to the Ministry of Civil Affairs. Rainstorms led to the collapse of 126,000 houses and forced the evacuation of more than 514,000 people, causing direct economic losses of about 31 billion yuan ($4.6 billion).
Despite the heavy rain, officials say China is unlikely to experience massive flooding like the summer deluge of 1998, as the flood control capacity of large rivers has been considerably improved.
However, urban planning experts are calling for improving drainage systems.
Last year, the Ministry of Housing and Urban-Rural Development launched a program called Sponge City, which aims to turn urban areas into "sponges" to absorb and recycle 70 percent of rainwater. It will cover 20 percent of China's urban areas by 2020.
Special coverage: Rainstorms cause widespread flooding across China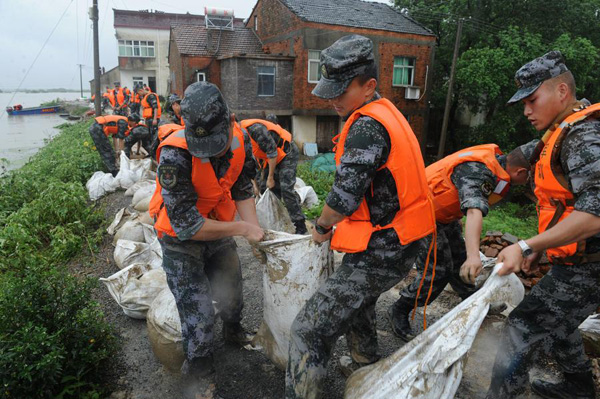 Soldiers carry sandbags to reinforce a dam in Shencun Township in Xuancheng city, East China's Anhui province, July 3, 2016. [Photo/Xinhua]