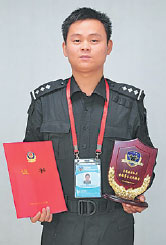 Hu Guangzhi is awarded the national third-highest citation for bravery for his heroic actions in fighting with a drug ring. Provided To China Daily
He pushed bystander out of harm's way first
Looking down the barrel of a homemade handgun at point blank range, officer Hu Guangzhi knew he might die in the next few seconds.
But instead of cowering or pleading for his life, Hu pushed a bystander out of harm's way and took two bullets to the chest and left arm.
The officer fired his weapon at almost the same time as the gunman, who was wounded and later brought to justice for dealing drugs.
"I didn't know how badly I was hurt when the bullets hit me. After I chased the gunman for one or two minutes I collapsed," said Hu, a member of the Huarong county Public Security Bureau drug squad in Hunan province.
The confrontation occurred on Nov 3, after police received a tipoff about a seven-member drug ring based in a residential building in Huarong. Two officers were stationed near the entrance and a six-hour stakeout ensued, as they waited for the gang members to arrive.
When Hu spotted and tried to apprehend the ringleader, three of his accomplices arrived and began striding toward them.
"One of guys pointed a gun at me covered in a black plastic cloth. I fired as he pulled off the cloth and took aim at me," he said.
After a 10-hour manhunt, Hu's colleagues apprehended the seven suspects with more than two kilograms of illicit drugs and three firearms in their possession.
Hu recovered from his wounds, but it is not the first time that he has been hurt throughout his 13 years of service with the police department.
"I survived the firefight and was fearless because in my previous duties I have had a gun pointed at my face. But when I woke up at the ICU in the hospital I feared I could never see my wife and son again," said Hu, who has received the national third-highest citation for bravery four times, won 18 awards of various types for valor in more than 80 major operations, which lead to upward of 2,000 suspects being apprehended.
He was hired by the Public Security Ministry as a general training officer for his extraordinary records in a national competition in 2011.
"Many people ask me what was on my mind on that day," Hu said. "It all happen so suddenly. I had no time to think about anything. All I did came from my instincts as a police officer."
Hu never flinches when his own life is in danger, what concerns him most is the threat of drug dealers targeting his family.
His wife, who asked not to be identified, said she understood and supported her husband and "would never complain to him about how difficult it is being a wife of a narcotics officer".
"I was attracted to him by the uniform when I married him a couple of years ago. He has my full support and trust to honor this noble calling. What I can do for him is to bury the complaints and be supportive," she said.
Life at home can be put under strain by Hu's job, and he rarely makes it home in time for dinner with the family, his wife said.
"You cannot expect regular meals and time to sleep if you work as a narcotics officer. Now, he doesn't even have to call me when he is coming home late. I am used to that," she said.
Contact the writer at zhang_yi@chinadaily.com.cn
Liu Jiangwa contributed to this story.