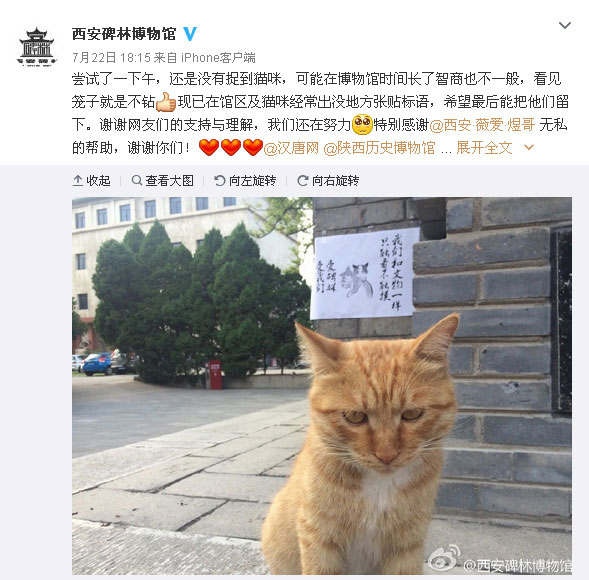 A screen grab of the Forest of Stone Steles Museum's micro blog says the facility appreciates netizens' support for the cats. 
"The kittens can stay, finally!"
This simple message warmed many hearts on Monday afternoon as a museum in Shaanxi province announced that it would not force three cats out of their home.
"Thank you for your support and concern in the past few days. Our museum will enhance supervision of these kittens, giving them vaccines, insect repellent, sterilization, as well as setting up warning signs within our scenic area. We'll provide a warm and loving environment for them and our visitors," the Forest of Stone Steles Museum in Xi'an said on Weibo. "Please feel free to come and visit them, but please, no more touching."
On the internet, the museum is not just famous for its ancient epigraphs and stone sculptures with masters' calligraphy but also for several widely-photographed stray cats. Many tourists take photos with them and post them online.
Yet the cats almost got kicked out last week after a child who tried to play with a baby kitten was scratched by its protective mother. The child's mother filed a complaint with the local tourist bureau, which resulted in an eviction order for the cats on Wednesday. On Friday, staff members attempted to catch the cats to give them away, but failed.
Over the weekend, public opinion went viral on Weibo until they changed the cats' fate.
"The kittens are not at fault here, why expel them?" Chen Pei said.
"It is cruel to bring such cuteness into this world and not allow them to live a happy life," Mo Ranying said.
"Please let the kittens stay. I haven't visited the museum yet and I wish to see them when I am there," Li Jingzhuo said.
Thousands of posts supporting the kittens have been put online, and many news outlets voiced their support.
"We never expected so many supportive comments for our kittens on Weibo. I personally was very moved," said Li Jingwen, the museum's media officer.
The museum's management board considered public opinion and decided after holding a meeting on Monday morning that the kittens should stay, Li said. Details will be released soon.
Wang Liqun, founder of the Good Dog Good Cat Companion Center, a Beijing-based volunteer group dedicated to helping stray dogs and cats since 1996, gave a thumbs up to the museum's latest call.
"Not many institutions, I should say very few in my memory, can do what they just did," Wang said. "Their attitude should be promoted. I always believed that how people treat animals reflects how civilized a society is."
Taking care of more than 270 stray dogs and 60 cats out of her own pocket, Wang knows more than many what works best for deserted pets.
"There is very little chance people will adopt stray cats. Plus, these cats are used to living outdoors. They just don't like staying home," Wang said. "Sending them away might also give some cat thieves an easy chance to steal them."
Zhang Zhihao contributed to this story.