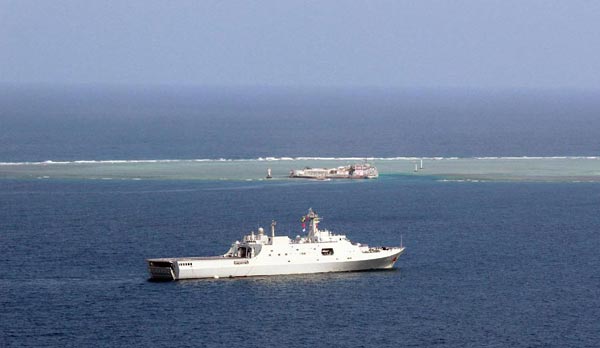 A formation of the Nanhai Fleet of China's Navy on Saturday finished a three-day patrol of the Nansha islands in the South China Sea. [Photo/Xinhua]
Beijing ready to respond if foreign warships make trouble in region, Defense Ministry says
The Chinese military will respond and is fully confident of protecting its sovereignty if foreign warships make trouble in the South China Sea, the Defense Ministry said on Thursday.
"Personally, I believe that the day of peace and stability in the South China Sea will only come when the US stops provocations there," said Yang Yujun, the ministry's spokesman.
Yang made the remarks during a seminar on Chinese defense policy attended by Chinese and foreign reporters. He had been asked about reports that US warships have been patrolling recently near Chinese islands.
US Navy officials said on Thursday that destroyers have sailed close to Chinese reefs and islands in the South China Sea in recent weeks.
The US guided-missile destroyers Stethem, Spruance and Momsen have been patrolling near "Chinese-claimed features" in the Nansha Islands and Huangyan Island, the US-based Navy Times reported. The destroyers operated within 14 to 20 nautical miles of the Chinese features, it said.
The US aircraft carrier Ronald Reagan and its escort ships have also been patrolling the South China Sea since last week, Reuters reported.
The reports came as the Arbitral Tribunal in The Hague, established at the Philippines' unilateral request despite China's objection, was scheduled to announce its ruling on the South China Sea arbitration case on Tuesday. The US, a major ally of Manila, has publicly pressed Beijing to accept the ruling.
"The Chinese military has never been frightened," Yang said.
He said that if foreign warships want to "make trouble out of nothing" in the South China Sea, "of course we have ways to deal with it".
He cited a line from a song used in Shang Gan Lin, a famous Chinese film about China helping resist US aggression in the Korean War: "We have wine if friends come, and we have shotguns to greet wolves."
The US destroyers have put pressure on Southeast Asian countries around the South China Sea that have worked with China to maintain regional stability, he added.
Huang Renwei, vice-president of the Shanghai Academy of Social Sciences, said the US wants to put China into a "strategic trap" by taking various measures on the South China Sea issue.
"However, it has added to the strategic burden on itself, as interests of countries including the Philippines will change. They don't want to confront China."