In the past decade, the most popular jobs taken by ex-public servants are in the financial sector or with law firms, according to a LinkedIn report.
The report examined job hopping trends for China's civil servants from 2006 to 2015. It found that the top industries sought by former government employees are finance, law, accounting, consulting, social organizations, the internet and real estate.
By years of experience, 37 percent of the former public servants had worked for government bodies less than three years, while 23 percent had worked from three to six years. The majority of public servants who quit their jobs - 53 percent - had been employed at low-levels of the government.
Leaving the perceived shelter of a government job and jumping into the private sector has been a growing trend for at least a decade, except in 2008 and 2014 when the macroeconomic situation was not positive. In those years, public servants tended to be conservative and restrained about job hopping.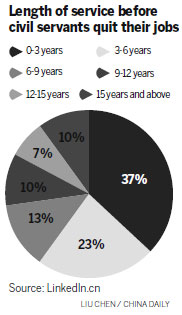 "At the beginning of reform and opening-up, there was a trend called 'diving into the sea' which meant civil servants quit their government jobs to engage in business," the report said. "However, 30 years ago, the main choice for ex-civil servants was to start a business with high risk. Now, they have more promising choices than before."
What's more important, the report said, is that the qualifications a person acquires working for government bodies are accepted in the private sector. LinkedIn found that job seekers with senior titles within government bodies tend to hold positions in upper management, such as company president.
Zhang Yingqian, 29, worked for a provincial procuratorate for seven years before quitting and joining a law firm.
"Working for a procuratorate and law firm requires the same skills. So my experience with the procuratorate makes it very easy to fit into my new job," Zhang said. "Ex-civil servants with experience in organs of public security, procuratorates and courts are always welcomed in law firms."