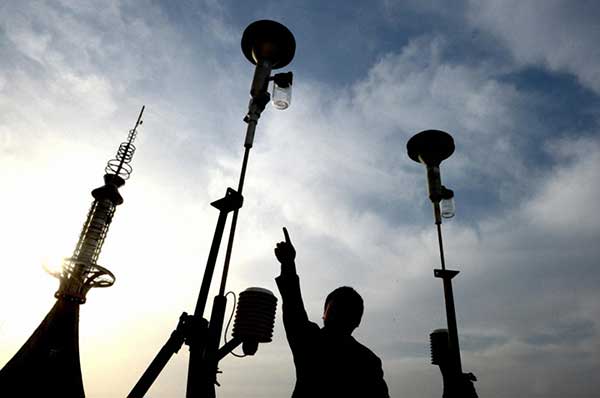 An air quality monitoring station is seen in Anyang, Henan province, in April. Zhu Xiang / Xinhua
Performance in dealing with environmental issues has become the major criteria for the selection and appointment of officials in Henan province, according to the provincial government.
Under a policy released by the government on Monday, local officials seeking promotion will be rejected if their cities or counties are ranked in the bottom 10 five consecutive times in monthly air quality assessments, or if they were responsible for damaging environmental resources.
Xie Fuzhan, top official of Henan, said air pollution has become a major bottleneck that hinders the province's economic and social development.
Government officials have responsibility for development not only in the economy but also in environmental matters, Xie said.
The province is aiming for more than 190 days of fairly good air quality this year, and 200 days in 2017.
Zhengzhou, the provincial capital, was ordered to raise its environmental ranking on a list of 74 major cities nationwide. The city ranks 70th among the cities last year.
The government said it will weed out small coal-fired boilers in its counties, and focus on completing a plant to treat volatile organic compounds.
The government has also issued a regulation to enhance enforcement of measure to clean up the air.
The government has the duty to ensure that the annual average concentration of PM2.5 is reduced each year. If not, it will be fined 400,000 yuan ($60,000) per microgram, the document said.
PM2.5 is a class of airborne particles 2.5 microns or less in diameter that cause serious harm to humans.
"Such measures will make officials pay greater attention to the environment, and I think some related supervision systems should also be followed," said Zhengzhou resident Wang Lin.
Public awareness has been increasing, he added. "The more we know, the more measures come out from the government to curb deteriorating air quality," he said.