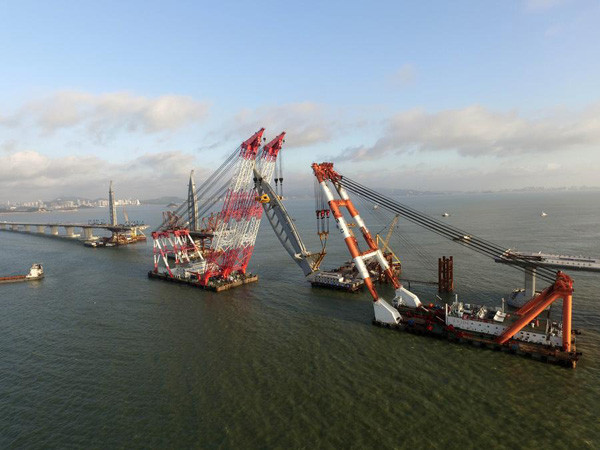 Workers install the last tower of the Hong Kong–Zhuhai–Macao Bridge on June 2, 2016. [Photo/Xinhua] 
Special: China's mega projects
Workers installed the last steel box girder to connect the main bridge of a mega-size sea-crossing project in the Pearl River Estuary early Wednesday, an important milestone reached in just seven years, the news website cnr.cn reported.
The project, called Hong Kong–Zhuhai–Macao Bridge (HZMB), will have a total length of about 55 km, including a 6.7 km underwater tunnel and a 23-km bridge over the sea, making it the longest cross-sea bridge in the world.
The HZMB authority said that workers started installing the last box girder at 11:45 pm Tuesday, and after one-hour work, it was put into place.
The authority said that the construction work of the major part has progressed well. Except for the connection of the main bridge, workers have finished 80 percent of the tunnel construction.
Workers will soon start bridge deck pavement and construct other traffic facilities, the authority said.
The project is part of the country's planned national highway network, linking the western and eastern banks of the Pearl River. It is to meet the demand of passenger and freight transport among Hong Kong, mainland and Macao.
Currently, driving along an existing route from Zhuhai to Hong Kong, it needs around 4 hours, and after the bridge is completed, it will take only about 45 minutes.
Construction of the Y-shaped bridge started in 2009 at a cost of some 100 billion yuan or $15 billion.
Experts say construction of the Hong Kong-Zhuhai-Macao Bridge is expected to be completed in the fourth quarter of 2017.