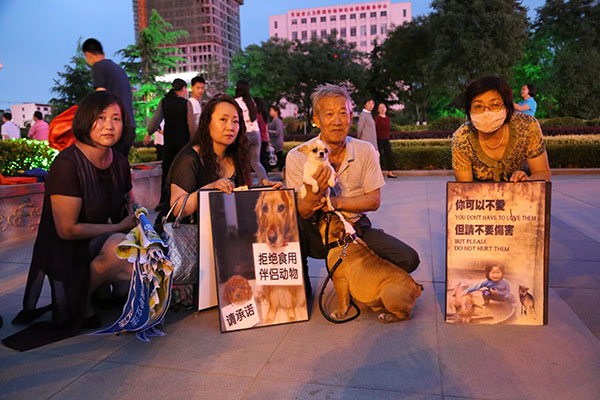 Dog lovers holding photos against dog abuse call for people to protest the Yulin dog meat festival, in Pingliang, Gansu province, on Monday. [Photo by Zheng Bing/China Daily]
The dog meat festival in South China's Guangxi Zhuang autonomous region arrived as usual on Tuesday but at a reduced size, as the local government pledged to take action to avoid public dog slaughtering.
Peter Li, China policy specialist at Humane Society International, has visited Yulin frequently in the past three years and said he felt the atmosphere in Yulin this year was less tense than before.
"I've seen hardly any abuse or slaughtering on the street," Li said. "At least for today, it is neither a nightmare nor a festival."
In response to Hong Kong legislator Michael Tien Puk-sun's petition to end the festival, the local government promised to ban dog slaughtering in public and to check the health certificates of dogs transported to Yulin.
Food safety and the problem of stolen pet dogs are the major objections.
The festival is held annually in Yulin around the summer solstice, a day on the Chinese lunar calendar after which the hottest days of the summer are expected. Under pressure both domestically and abroad, the Yulin festival has shrunk in recent years.
According to Humane Society International, the dog slaughtering peak was in 2012 or 2013, when more than 10,000 dogs were killed in three days. The number dropped to 2,000 dogs in 2015.
Ever since the festival became a lightning rod for critics in 2012, the local government has said little beyond reiterating that there is no "organized festival" and that it's just a local people's gathering.
Li Tingsheng, a local publicity official, said dog meat is a valid food choice, not a bad habit as some activists say.
"We have made an effort to address public concerns over food security as well as the safety of pets," Li said. "However, there is no legal basis for preventing people from eating dog meat."
A recent poll conducted by Horizon, a Chinese polling company, found more than half of Chinese want the local government to ban the festival, saying it tarnishes the country's image. When asked whether the central government should pass legislation to outlaw the dog meat trade, nearly 56 percent of respondents from outside Guangxi voted yes. Only 16 percent of respondents from Guangxi agreed.
Qin Xiaona, director of the Capital Animal Welfare Association, said, "It is embarrassing to us that the world wrongly believes the brutally cruel Yulin festival is part of Chinese culture."
Zhang Li in Nanjing contributed to this story.
Contact the writers at huoyan@chinadaily.com.cn and suzhou@chinadaily.com.cn