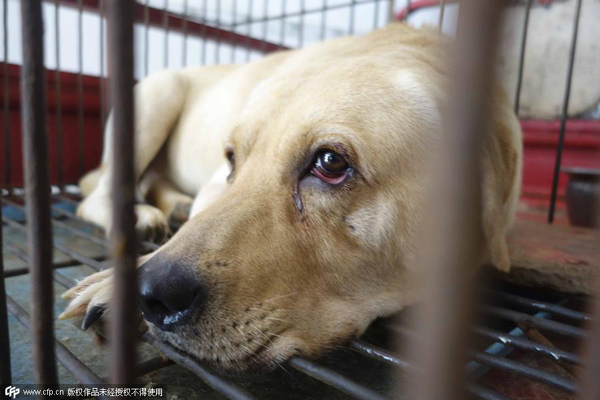 A dog to be slaughtered in a cage at a dog market in Yulin, Southwest China's Guangxi Zhuang autonomous region on June 19, 2015. [Photo/CFP]
Most Chinese want the annual Yulin dog meat festival on June 21 to be called off, saying it tarnishes the country's image, according to the findings of a survey conducted by Chinese polling company Horizon.
Among the polled respondents, 64 percent support the end of the festival held every year in Southwest China's Guangxi Zhuang autonomous region, and 51.7 percent say the dog meat trade should be completely banned, according to the poll commissioned by Chinese group China Animal Welfare Association in collaboration with Humane Society International and Avaaz, a global online campaign community.
"The vibrant campaign to end the Yulin dog meat festival is rooted in Chinese opposition to the event, supported by people from around the world who agree that this cruel trade must not be tolerated," said Qin Xiaona, director of the Capital Animal Welfare Association.
Over the past few years, as calls to end the event have gained momentum, local governments have responded by disassociating themselves from the festivals.
An unprecedented eight million Chinese voted online in support of a legislative proposal to ban the dog meat trade in China recently.
Last week, petitions signed by more than 11 million people around the world were submitted to policy makers in Beijing, demonstrating that people globally have joined their call to end the trade.
The poll also found that 62 percent of the respondents thought Yulin damages China's reputation and 69.5 percent added that they have never eaten dog meat, discrediting previous claim that Yulin festival is part of Chinese culture.
"It is embarrassing to us that the world wrongly believes that the brutally cruel Yulin festival is part of Chinese culture. It isn't and as we see in this poll, most people here don't eat dogs and believe that the festival damages China's global reputation," said Qin.
Billed as a "celebration" of dog meat to mark the summer solstice, the Yulin festival sees thousands of dogs abused and killed, many of them stolen from their homes and streets by dog meat traders.
"This poll squelches any remaining doubt about where Chinese citizens stand on Yulin's brutal beating and burning of pups," said Luis Morago, campaign director at Avaaz.
In 2014, Yulin's local government closed several markets and slaughterhouses and banned officials from eating dog meat at local restaurants.
In 2011, Jinhua Hutou dog meat festival was banned in East China's Zhejiang province.