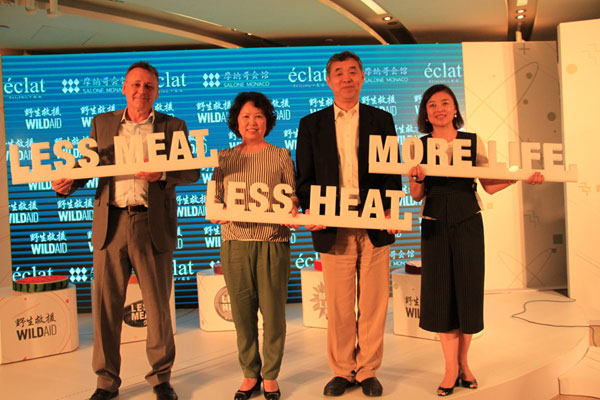 Peter Knights (Left), executive director of WildAid, Li Junfeng (Second Right), Director General of China's National Center for Climate Change Strategy and International Cooperation, Yang Yuexin (Second Left), President of Chinese Nutrition Society, at the release of "5 To Do Today" report in Beijing on June 20, 2016. [Photo/chinadaily.com.cn]
Government officials and experts suggest that eating less meat can make great contributions to cut global greenhouse gas (GHG) emissions, thus mitigating the continuing impact of climate change.
Figures from the United Nations Food and Agriculture Organization show livestock agriculture and meat production takes up 14.5 percent of the total global greenhouse gas emissions, due to the increasing demand for meat and dairy products. This is more than that generated by all vehicles combined.
A "5 To Do Today" report was released by WildAid, a San Francisco-based environmental organization, at a press conference in Beijing on Monday. It asks people to take five simple actions every day to reduce energy use and consumption through modifying their daily routines.
"I think the most important thing about the role of meat in climate change is that we can take actions to reduce our meat consumption immediately today," said Peter Knights, executive director of WildAid. "And China, with a 28-percent global meat consumption, could play a leading role for developing nations to cut their meat consumption."
Professor Yang Yuexin, President of Chinese Nutrition Society (CNS), talks about the current situation: "Our national meat consumption is increasing every year. The increase is mainly from livestock such as pork and beef. Evidence has shown that overconsumption of meat in the long run, especially processed meat, affects our health."
Based on the report, if everyone in China could follow the new dietary recommendations from CNS by cutting their meat consumption in half to 27.4 kg per year, GHG emissions from meat consumption in the country would fall by 675 MtCO2e, which is equal to 1.5 percent of global emissions.
"There is still a long way to go for Chinese people to change their eating habits and obsession with animal-based products," said Li Junfeng, Director General of China's National Center for Climate Change Strategy and International Cooperation, at the news conference. "On the other hand, we are short of effective channels to raise people's awareness of how eating less meat could help tackle climate change.'
But things have changed step by step. According to the latest survey conducted by WildAid, 83 percent of respondents in China are willing to eat vegetables at least one day each week for their health and the planet. Meanwhile, 40 percent of respondents have realized the association between meat consumption and GHG emissions.
"It is hoped that people will rely less on the livestock industry," said Li Junfeng. "Through this kind of change, it is expected the livestock industry will transform and carbon emissions will be reduced."
Household names such as Chinese actress Li Bingbing, US director James Cameron as well as former governor of California Arnold Schwarzenegger have joined the global environmental campaign, urging everyone to adopt a healthy diet for themselves and the planet.