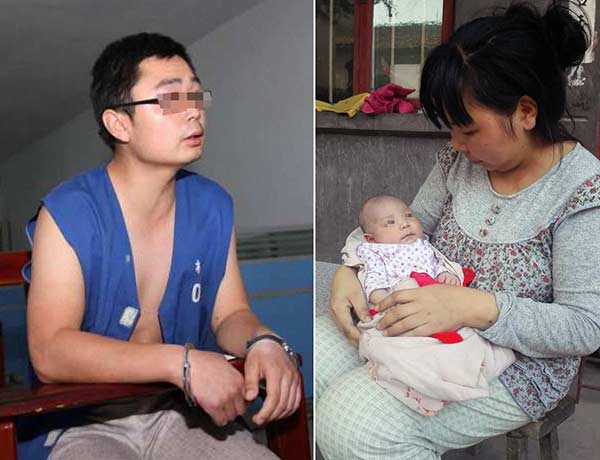 Left: A father was detained for attempting to murder his newborn baby in Anyang, Henan province. Right: The baby with his mother at home on Friday. SHI CHUANG/CHINA DAILY
Intersex newborn with rare genital structure seen as 'monster'; mother comes to the rescue
The father of an intersex baby in Henan province was detained by police on suspicion of attempting to murder the newborn.
The baby was born on May 13 in Anyang. After it was found to be an intersex baby, his father and grandfather attempted to kill it three times before the mother contacted authorities, the police said.
The father was detained and the grandfather was released pending trial, according to the mother.
"We thought we would have a girl. But soon we were told the 'girl' is actually a boy, with an atrophic sex organ. We panicked and got concerned," said the mother, Yang Xiaoqing, adding that her husband attempted to smother the baby because "he is neither a boy nor a girl", but a "monster".
According to Zhengzhou Evening News, the father at first attempted to cover the baby's face with a wet towel. Yang heard the baby's crying and stopped her husband.
"When I heard my son cry, I was in pain. My wife cried and I gave up," the paper quoted the father as saying.
Three days later, he again attempted to smother the infant, covering his face with a wet towel and diapers, and wrapping him up in a blanket, Yang said, and she stopped him again.
"He could not bear to kill his own flesh and blood after all, and my father-in-law took over," Yang recalled.
She found her baby was missing and called police.
The police said they later discovered the baby's grandfather had abandoned him outside the village.
"After he was found, he did not eat for 12 hours. I was holding the baby. My heart is broken. He may be a monster to others, but to me, he is and will always be my sweetest baby," the mother said.
The couple also have a daughter.
"We are in a difficult situation. My husband was locked up, my parents have health issues and the two children need someone to take care of them. But what I worry about most is that my son may suffer discrimination when he grows up," Yang said.
Police in Linzhou, Henan province, where the father was detained, did not responded to China Daily's interview request.
"Intersex cases are extremely rare. Surgery depends on diagnoses," said Li Jianning, director of the Department of Plastic Surgery at Beijing University Third Hospital.
"It is still a stigma in Chinese society. They are being labeled as neither male nor female," Li said.
According to the Intersex Society of North America, "If you ask experts at medical centers how often a child is born so noticeably atypical in terms of genitalia that a specialist in sex differentiation is called in, the number comes out to about 1 in 1,500 to 1 in 2,000 births. But a lot more people than that are born with subtler forms of anatomical variations, some of which won't show up until later in life."
Unusual sex characteristics
Intersex people are born with sex characteristics that do not fit typical notions of male or female bodies, including genitals and chromosome patterns. According to experts, between 0.05 percent and 1.7 percent of the population is born with intersex traits. Remedial surgery depends on diagnoses.