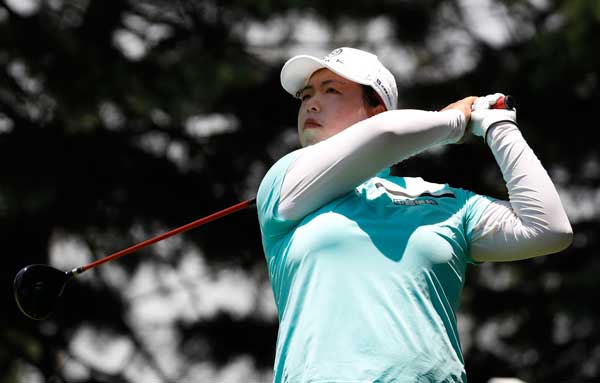 Feng Shanshan watches her shot on the ninth hole during the third round of the Meijer LPGA Classic on Saturday at Blythefield Country Club in Belmont, Michigan. [Photo/Agencies]
Golf's return to the Olympics is boosting the image of a game that has been associated with money and corruption in China, and the country's sports authorities are getting behind it in a big way.
Amid the government crackdown on unauthorized golf courses and related corruption, the Chinese Golf Association since 2013 has been ambitiously nursing a group of elite players with support for technical training, physical therapy, facilities and logistical arrangements.
The players include women's major championship winner Feng Shanshan and men's domestic No 2 Li Haotong.
The association is focused on the 2016 Rio de Janeiro Olympics in August, when golf makes its way back to the quadrennial sporting extravaganza for the first time since 1904.
The goal for Chinese golf is to first qualify as many homegrown players as possible for the Rio Olympics, and then to promote the game as an affordable exercise for China's ever-increasing middle class, rather than just a luxury pastime for elitists, it said.
To better support golfers under the national umbrella, the association has hired a crew of foreign coaches, including Australian Greg Norman, a two-time British Open champion and former men's No 1, and South Korea's LPGA veteran Park Hee-jung to guide the men's and women's teams.
Fitness trainers and physical therapists have also been sent overseas at the nation's expense to accompany promising players and keep them in top physical condition en route to the Games.
Under International Golf Federation rules, the top 15 world-ranked players as of July 11 of both genders will qualify for one of Rio's 60 slots in the men's and women's divisions, with a limit of four players of each gender per country.
The remaining spots will go the highest-ranked players from countries that do not already have two golfers qualified.
Feng, the current world No 12 woman who won the 2012 LPGA Championship-the mainland's first major title in golf-is spearheading medal hopes for Rio, while her younger compatriot Lin Xiyu, ranked No 58 in the world, is also angling for a slot.