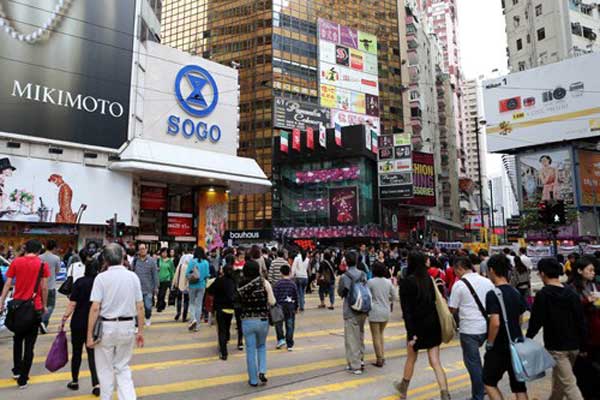 Causeway Bay, Hong Kong.[File photo]
Hong Kong has the world's longest working week with an average of more than 50 hours, according to a survey recently conducted by the United Bank of Switzerland (UBS).
Covering 15 sectors of the workforce in 71 cities, the survey discovered that the average working time of Asian people is longer than that of Europeans.
Hong Kong topped all cities with a working week averaging 50.11 hours. Taipei averages 41 hours, Tokyo 39.5 hours, and Beijing 37.42 hours.
Of the 71 cities, Paris enjoys the shortest working week of 30.84 hours. Lyon, in central France, follows Paris with an average working week of 31.36 hours. To avoid people bringing work home, France is considering making a law that would prohibit people from sending work emails in the evenings and on weekends.
The survey also looked at paid annual leave, which in Hong Kong is only 17.2 days a year, less than the 23-day average.
Top 10 cities with the longest working week
1) Hong Kong (China): 50.11 hours
2) Mumbai (India): 43.78 hours
3) Mexico City (Mexico): 43.48 hours
4) New Delhi (India): 42.57 hours
5) Bangkok (Thailand): 42.13 hours
6) Dubai (The United Arab Emirates): 42.03 hours
7) Nairobi (Kenya): 42 hours
8) Taipei (China): 41.17hours
9) Jakarta (Indonesia): 40.42 hours
10) Bogota (Colombia): 40.30 hours
Top 10 cities with the shortest working week:
1) Paris (France): 30.48 hours
2) Lyon (France): 31.36 hours
3) Moscow (Russia): 31.67 hours
4) Helsinki (Finland): 31.90 hours
5) Vienna (Austria): 32.26 hours
6) Milan (Italy): 32.51 hours
7) Copenhagen (Demark): 32.63 hours
8) Luxembourg City (Luxembourg): 32.75 hours
9) Vilnius (Lithuania): 33 hours
10) Brussels (Belgium): 33.01 hours