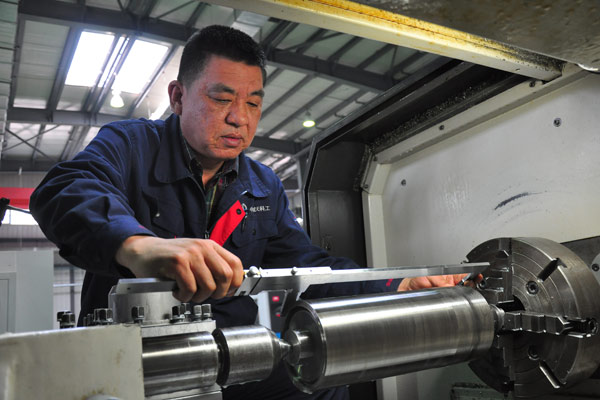 Wang Yang, a lathe worker at Shenyang Aerospace Xinguang Group, never expected he would make a contribution to China's space program. [Photo rovided to China Daily]
Wang Yang could never have imagined the role he would play in China's manned space exploration program when he landed a job at a factory in Shenyang, Liaoning province, 31 years ago.
Even now, when the taciturn 50-year-old lathe worker sees pictures of Shenzhou spacecraft on the television he only tells his wife these simple words: "There are some parts on it that were made by me".
Born in 1966 as the youngest child of two space industry workers in Shenyang, Wang was employed in 1986 by the Shenyang Xinguang Factory, now called Shenyang Aerospace Xinguang Group, after serving three years with the People's Liberation Army.
"I knew nothing about the equipment in my workshop when I was assigned the job," he recalled. "The thing that inspired me the most at that time was my mentor's products, which were like artworks in my eyes."
Aspiring to becoming a lathe master, Wang was apprenticed to Qi Jianguo, who was a top lathe operator at the factory, for more than two years.
"Qi told me that a top worker needs to coordinate his eyes, hands and his mind when crafting a product, and I always keep these words in my mind," Wang said.
In 1997, five years after China commenced its manned space program, Shenyang Aerospace Xinguang was designated as the developer and manufacturer of one of 10 key components to be used on the nation's future Shenzhou spacecraft. But the research team, of which Wang was a member, knew nothing about the part.
So, for more than two months, he spent almost all of his time making prototypes, conducting experiments and carrying out tests in front of his lathe. Finally, the product was ready to be manufactured and used on the Shenzhou I spacecraft.
It proved so successful that all such components for the next nine Shenzhou spacecraft were made by Wang.
Wang Jun, head of the company's labor union, said managers had considered promoting Wang to a managerial position several times, but the lathe worker chose to remain in his workshop.
"If he had decided to take up the appointment, he would have got higher pay and a more comfortable workplace, but he took my advice that operating a lathe is more suitable for him because this job makes the best use of his know-how and expertise," the union head said.
Zhang Yinhua, who is also a lathe worker at Shenyang Aerospace Xinguang, said Wang Yang had mentored 12 apprentices, including himself.
"And three of us have become high-grade operators thanks to his instruction," he said.
Wang Yang's helpfulness not only benefits his apprentices, it is also a boon to other workers at the company.
"Anyone who had a problem concerning the lathe comes to Wang Yang to ask for help and he has never let them down," Zhang said.
In 2006, Wang Yang was named a model worker of Shenyang. Three years later, he was named a model worker of Liaoning province and in 2012, he was awarded a National May Day Laborer Medal. The next year, the lathe operator was named a national model worker, the top honorary title.
Wang Yang has also invented dozens of metal-processing techniques and holds three national patents.
The secret to his success? "I am serious about the making of every product," he said.
zhaolei@chinadaily.com.cn