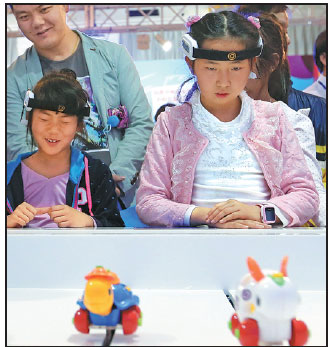 Two children maneuver a toy rabbit and a toy turtle, both controlled by brain wave devices, during a race in Beijing on Saturday at the 2016 Science and Technology Week.Wang Zhuangfei / China Daily
Displays covering 12 of China's biggest scientific facilities are being shown for the first time at this year's Science and Technology Week, which opened in Beijing on Saturday.
"We will display models, pictures and videos of 12 major large-scale science facilities, and the public will have a chance to talk to scientists who are using these large-scale science facilities to make breakthroughs," said Bao Xianhua, deputy director of the department of politics, regulation and supervision at the Ministry of Science and Technology.
The displays are held in the Cultural Palace of Nationalities in Beijing.
China started to construct a number of large-scale science facilities in the past two decades, such as the 500-meter Aperture Spherical Radio Telescope in Pingtang, Guizhou province, which will be the world's largest single-dish telescope. Others include the Large Sky Area Multi-Object Fiber Spectroscopy Telescope in Xinglong, Hebei province, which is expected to conduct a 5-year spectroscopic survey of 10 million Milky Way stars.
"The large-scale science facilities are an essential part of China's fundamental research, and are the foundation for technological innovation. As a result, it is necessary to let the public learn more about scientific frontiers by displaying these facilities," said Chang Jin, chief scientist of China's Dark Matter Particle Explorer satellite, which was launched in December to detect dark matter in space.
"Moreover, large-scale science facilities are very expensive. So we should explain to the public how we work with them through this face-to-face communication," he said.
Although the facilities' research - from subatomic particles to galaxies - may seem difficult for the public to understand, Chen Xuelei, a researcher at the National Astronomical Observatories affiliated with the Chinese Academy of Sciences, is confident of grabbing people's interest.
The week has been held 15 times since 2001, attracting more than 1.2 billion visitors.