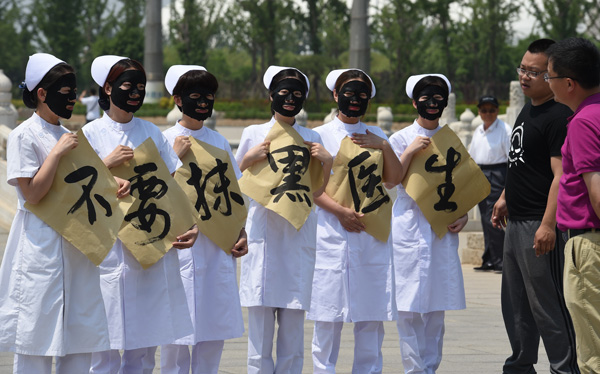 Nurses from a hospital in Cangzhou, Hebei province, hold placards that say 'Don't vilify doctors' at an event on Tuesday. The event calls for protection of medical workers and a harmonious relationship between patients and doctors. [Photo by Fu Xinchun/For China Daily]
Good doctor-patient relationship requires sound medical system behind it, official says
The top health authority declared that zero tolerance will be shown for people who assault and injure medical personnel, after two doctors were severely injured on Tuesday.
A surgeon in Chongqing was stabbed several times in the face and back by a 19-year-old patient and two of his friends, while another doctor from Jiangxi province was beaten by a patient's family members after the patient died.
The National Health and Family Planning Commission said on its website on Tuesday that it will crack down on hospital-related crimes in conjunction with the Ministry of Public Security.
All the suspects involved in the two cases were detained by police.
Violence against doctors in China has grabbed public attention in recent days, with discussions about the safety of medical staff.
In Chongqing's Shizhu County Hospital, where the surgeon was stabbed, medical staff went on strike on Tuesday, calling for severe punishment of the perpetrators.
"Trust between patients and doctors in China is facing a crisis, which resulted in the violence," said Gong Xiaoming, a physician who quit a public hospital and now runs a private medical group.
He said medicine is far beyond the knowledge of the public, and people have limited access to reliable medical information explained in simple language.
"A lack of information is behind the conflicts between patients and doctors," Gong said. "Especially in many public hospitals where a doctor has to treat a large number of patients, good service isn't guaranteed. And conflicts are much likely under stress."
According to the health commission, outpatient visits nationwide increased by 300 million from 2014 to 2015. But medical disputes dropped by about 8 percent to 71,000 during the period.
More than 80 percent of medical disputes were resolved through civil meditation, said Jiao Yahui, an official at the commission. She said law enforcement should be strengthened to crack down on violence against doctors.
"A satisfactory doctor-patient relationship also requires a good medical system behind it," she said.
Wang Xiaodong contributed to this story.
What they say
Even if a doctor is at fault, there is no excuse for violence. Violence against doctors only encourages conflicts between patients and medical staff.
Li Ying, deputy director of the Health News Media Research Center at Communication University of China
Public trust of medical staff has eroded, and many medical incidents have been reported in recent years. Only a better system that values doctors' work, respects people's lives and brings equal rights to both sides can fundamentally resolve the conflict.
Xu Feng, journalist in Shanghai
Not just me but many of my colleagues are unwilling to encourage our children to study medicine. Safety is a basic need for us. If our lives cannot even be guaranteed, I can't see any charm in the work.
Yang Li, physician at Kunming Children's Hospital in Yunnan province