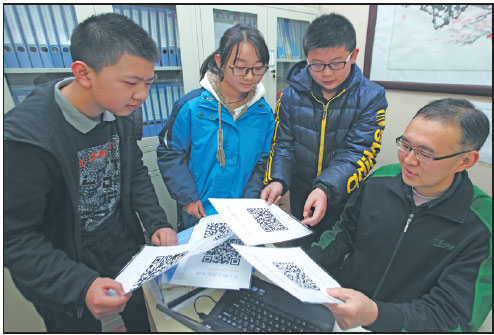 Jia Haibin (right) discusses with his students the merits of scanning printed codes to submit their homework at the primary school affiliated with Xi'an Jiaotong University.Chen Feibo / For China Daily
At a time when people's daily lives increasingly include scanning printed codes with their smartphones to shop, collect information or find entertainment online, a schoolteacher in Xi'an, Shaanxi province, is encouraging his students to use the technology to submit their homework.
Jia Haibin, who has been teaching information technology courses for more than 15 years at the primary school affiliated with Xi'an Jiaotong University, asked his students to hand in their homework using the little square symbols - known as QR codes - in a practical course this semester.
Students complete their homework and store it on WeChat. Then, they create their own QR code that points to the work, and give the code to the teacher.
The idea has raised concerns among some parents, who worry about children spending too much time on computers or mobile devices and less time communicating in person with teachers.
"It is normal that disagreements arise when a new thing is created or a new idea is proposed," Jia said. "However, it is necessary that new information technology be used in the education sector. The whole society is encouraging innovation."
In fact, some parents' worries are unnecessary, Jia said.
"First of all, my students will only use the QR codes to hand in homework for a single course, not all their subjects," he said.
"Second, students still need to look up information from books and write characters when they do their homework. The code is only used when they submit their homework. It allows the teacher to check their work instantly and share it with other students conveniently."
The method doesn't require students to spend excessive time on computers or mobile devices, he added.
"In fact, I am the one who will be spending more time on screen to examine their homework. So, parents don't need to worry about their eyesight or about them playing digital games."
Although there are discussions among parents, students welcome the new method, saying it's interesting and attractive.
Dong Xinyan, one of Jia's students, said she likes the approach because the two-dimensional code can allow students to combine characters, music and various digital elements into their homework.
Jin Honglai, another student of Jia's, said he used to spend two hours making a handwritten report as homework for the course. Now, it only takes him 20 minutes.
"The handwritten report is not easy to save, but the two-dimensional code is easy to keep and share," he said.
If teacher and students communicate through digital devices, will face-to-face communication be reduced? Jia, the teacher, said it's too early to tell, and besides, there is only one lesson a week for the course and he talks with students during class time.
"It is worth trying to use new technology in education to cultivate new ways of thinking, even if it may not be fully accepted in future," he said.
Jia's students will complete homework by shooting videos in future because it is now the "era of video", an unstoppable trend, he said.
"Education itself is a kind of creation. Students should not be bound by tests and scores. I don't want my students to lag behind the times."
dujuan@chinaidaily.com.cn