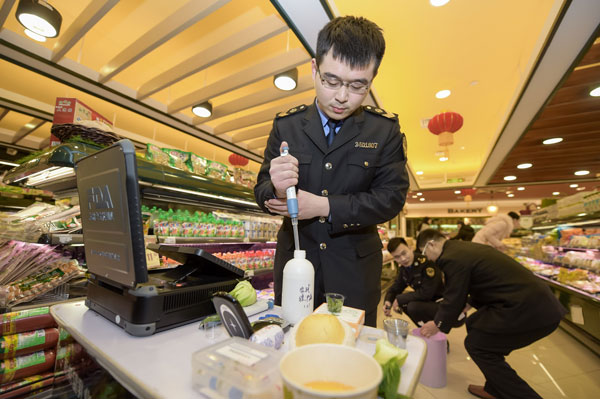 A safety inspector checks food products at a supermarket in Hefei, Anhui province, in February. [Photo/Xinhua]
China's top legislature will inspect enforcement of the new food safety law in 10 provinces, municipalities and autonomous regions from mid-April to the end of May.
Legislators from the Standing Committee of the National People's Congress will check the food safety situation in such places as Tianjin, the Inner Mongolia autonomous region and Heilongjiang province after some recent scandals, such as fake-brand baby formula, triggered public outrage.
Zhang Dejiang, the top legislator, said on Tuesday that five teams will conduct the inspection, keeping safety foremost on people's minds and supervising the effectiveness of the law, which took effect in October.
In the baby formula case, Shanghai police arrested nine people suspected of being involved in the production and sale of milk powder that was packaged with fake brand labels, Xinhua News Agency reported on Sunday.
The police investigated the case after receiving reports in September, and they caught the suspects and seized about 1,000 cans of milk powder, more than 20,000 empty cans and 65,000 fake brand trademarks, from Dec 9 to Jan 7, Xinhua said.
Six of the suspects have been transferred for prosecution, it added.
"Making people confident while eating has been a key issue among legislators, and we've increased efforts in updating food work systems and providing the strictest supervision in the industry," said Zhang, the committee's chairman.
"The new law has been revised for more practical enforcement, and awareness of the law will be enhanced in government departments," said Zhang, who also is the inspection leader.
The inspection will review law enforcement at every step of the food production process. It will look at such things as whether local governments provide special funds for food safety supervision and how food enterprises train employees for safety management, according to a committee statement.
Vice-Minister of Public Security Huang Ming said that authorities have cracked 15,000 cases involving food safety and arrested more than 26,000 suspects since the law took effect.
The China Food and Drug Administration also said that it is accelerating the development of rules to help governmental departments effectively implement the law.
In addition, more food sample checks have been developed, especially regarding baby-related food, the administration said.