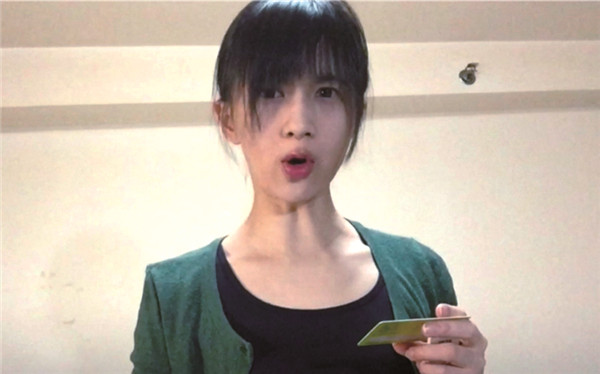 Papi Jiang (above) and Karisma Collins are Internet sensations in their own countries. Photos provided to China Daily
"The popularity of such clips among young people are attractive to venture capital investors. This dramatic and self-centered way of expression is typical of what young netizens do on social media these days. This is what started the investment in Internet starlets," said Yu Hai, a sociology professor at Fudan University.
Gu Xiaoming, a professor from Fudan University, said that the emergence of cyberstars is a phenomenon that coincides with the permeation of the Internet in daily life and it indicates that the way of life, culture, education and media are on the eve of a revolution.
The concept of cyberstars is not new, but it has now evolved into a viable platform for branding, this is a stage that former Chinese Internet starlets never reached, said Shen Yang, a professor from Tsinghua University.
And it seems that age and life experience are inconsequential when it comes to being an Internet sensation. One such example is 15-year-old Canadian blogger Karisma Collins who started using social media about four years ago.
She currently has more than 400,000 combined followers on Instagram and Facebook, as well as more than 685,000 on musical.ly, a music video community site. Most of the teenager's posts on social media are of her posing in various outfits and the majority of her followers are reportedly girls aged from 12 to 24. Each of her recent posts on Instagram is liked by more than 10,000 followers.
"To be honest, my favorite part about the whole thing is reading the comments. It's what makes the whole thing feel real rather than just numbers on a screen. I always take into consideration what my followers say because they are the whole reason I'm here. I love hearing their opinion on things and all the love they give me is more than I deserve," she said.
"I am passionate about fashion, art, music, makeup and a lot of other things. I hope to incorporate what I love to do into my social media feeds and I hope to start my own makeup or clothing brand in the near future," she added.
Similarly, Internet starlets in China are also closely linked with the fashion business.
Seven out of the top 10 Taobao.com merchants during the 2014 Singles Day sales spree, also known as China's version of Black Friday, sell female clothing that are promoted by Internet starlets. According to public information, there are more than 1,000 of such merchants operating at the moment and their monthly sales exceed 1 million yuan.