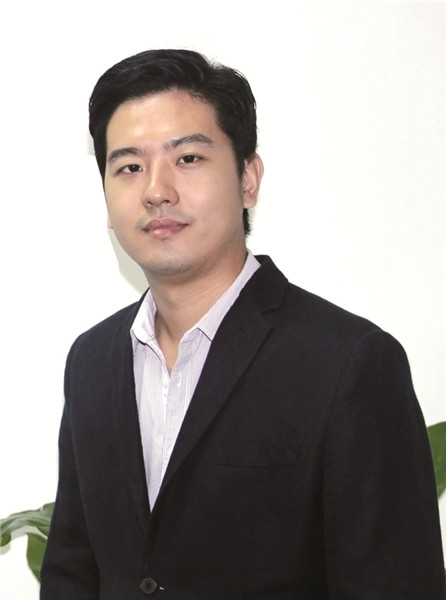 Daniel Ma, CEO of Shanghai YeDao. Provided to China Daily
While people were debating about the rise of an "Internet starlet economy" in China, Daniel Ma and his partners were busy searching for ways to cash in on the phenomenon.
In 2014, Ma and two business partners — Chief Technology Officer Huang Chao and Vice President Hilda Ye — co-founded Shanghai YeDao Inc in Shanghai's Pudong district and the company has since been connecting social media stars with Chinese retailers looking to promote their products. Shanghai YeDao currently has 300,000 registered foreign users and 200 social media starlets.
"At the beginning, we facilitated deals with female cyberstars from North America and Europe. We would mail clothes and cosmetics to them every month for free and all they need to do is to wear the clothes and makeup, take photos and post them on social media platforms like Instagram, along with a web link to these retailers," said Ma, CEO of Shanghai YeDao.
After graduating from an MBA program jointly sponsored by the Massachusetts Institute of Technology and the Russian government, Ma began his foray into Internet-related businesses in 2007.
"In the past two years, more and more business starters have recognized the great opportunities provided by cross-border e-commerce in China. However, I found that such single-sided trading does not bring any actual business volume to Chinese companies," said the 30-year-old.
When he realized that several Chinese companies were already in the cyberstar business and had signed up most of the popular Internet starlets, Ma decided to do things in a slightly different way instead — approach social media stars in foreign countries.
According to Ma, Western stars, when compared to their Chinese counterparts, pay more attention to personal style and are often more willing to create and develop their own brand.
Because of this, Shanghai YeDao will soon be collaborating with these foreign stars to launch their own product lines that will be designed and produced by Chinese companies. Ma expects his team to generate up to 300 million yuan ($46 million) by the end of this year through this initiative.