Low salary and lack of social status are obstacles in getting more men to work in kindergartens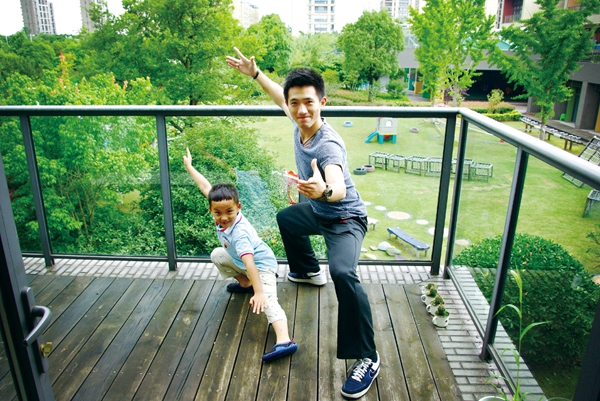 Chen Yilang and a pupil adopt a kungfu pose at the China Welfare Institute Kindergarten. CHINA DAILY
Despite heightened efforts by Chinese schools to recruit more male teachers in an attempt to counter what education officials worry is a trend of increasing numbers of effeminate boys, male educators are still in short supply across pre-schools in Shanghai.
According to statistics from the Shanghai Municipal Education Commission, there were a total of 53,352 employees in more than 2,000 Shanghai kindergartens as of 2014. However, this group comprised just 200 male teachers.
Authorities have in recent times made it easier for men to enter this industry by implementing relaxed college admission requirements and offering scholarships that come with guaranteed full-time employment in schools, but it seems that Chinese men are still reluctant to take on the roles.
Chen Yilang, one of the few male teachers working at the Jiangwan branch of the China Welfare Institute Kindergarten, said that while teachers are generally held in high regard in society, the wages earned by men in pre-schools are still considered uncompetitive. The majority of male kindergarten teachers in Shanghai earn between 50,000 and 60,000 yuan ($7,600-$9,200) annually, lower than the average annual income of employees in the city in 2014 (65,417 yuan). Those with more experience, however, stand to earn a maximum of 100,000 yuan per year.
He noted there is also the social stigma that men working in preschools are-somewhat ironically in this case-rather effeminate themselves because the education sector has always been a woman's domain.
"I chose this job not for the money but for happiness. I believe that it is important to change society's attitude toward pre-school male teachers and for men to ignore such bias. Still, many of my peers have switched careers after just a few years because of the low income and high work pressure. Some of them even face difficulties in finding a spouse because of the social bias toward this profession," said Chen.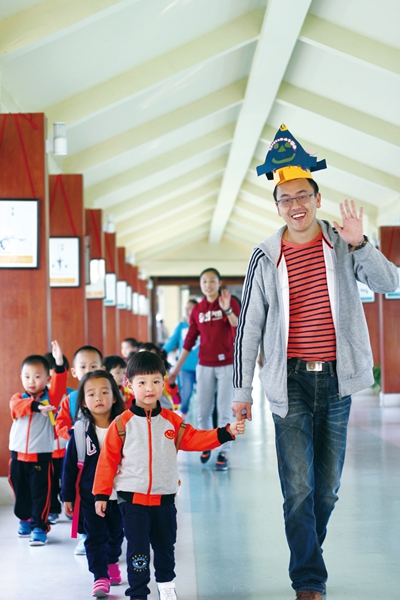 Male teachers in Shanghai pre-schools are still greatly outnumbered by their female counterparts. CHINA DAILY
Educators in China believe that a gender imbalance in teachers in kindergartens and primary schools may pose serious social consequences as education during these particular periods is critical to character formation.
Feng Wei, the head of China Welfare Institute Kindergarten in Shanghai, said that the lack of male teachers in schools has resulted in an increasing number of boys growing up to be shy and timid.
She noted that the typical family environment in China has also played a role-mothers are often the parental figures who raise their children as the father is still expected to bring home the bacon. Furthermore, as most of the children of the current generation are the only child in the family, they tend to lead very sheltered lives.
Over at Shanghai Normal University, Shi Bin, director of the Fundamental Education Development Center, added that authorities should focus on promoting the "respect to teachers" notion as he believes this would eventually attract men to join the teaching industry and change societal perceptions.
"The gender imbalance in preschool and primary school education may lead to girls growing up to be more powerful than boys who will lack confidence and be unable to tackle tough challenges," said Shi.
Some Chinese parents have already started to take action after noticing that their children appear to be somewhat timid when it comes to participating in team-based activities.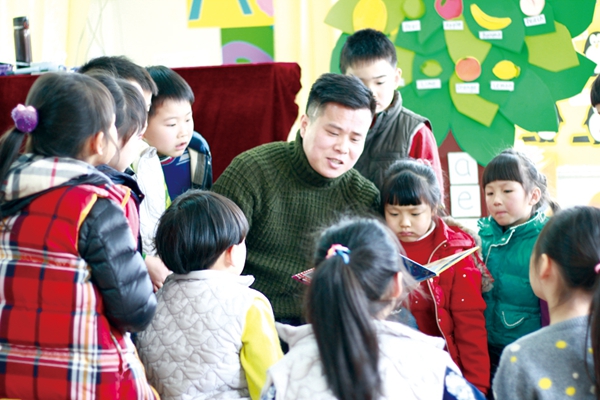 Male teachers in Shanghai pre-schools are still greatly outnumbered by their female counterparts. CHINA DAILY
Zhu Yanjun, a 35-year-old mother of two boys, has responded by making her children take part in activities such as football, ice hockey and taekwondo regularly.
"I've noticed that my four-year-old son is not good at sports and teamwork as there are hardly any such activities in the kindergartens. That's why I told him that he has to play football, so that he can be tough and strong," said Zhu.
The China Welfare Institute Kindergarten in Shanghai is one of the few institutes around that champion the importance of team-based activities. It has also been one of those that have consistently employed male teachers since the late 1990s. Today, it has 25 male teachers who work alongside 100 female counterparts.
"We will definitely pick the male applicant in the recruitment process if the only difference between two applicants is gender," said Feng of their commitment to addressing the shortage of male teachers.
Feng also said male teachers provide a different dimension to the teaching approach with their masculinity and thinking processes, and that the distinct teaching methods employed by the male and female teachers help provide children with a holistic learning experience.
"The teaching methods used by male and female teachers are a perfect complement as they help to counter the disadvantages of each style," said Feng.
Male teachers in Shanghai pre-schools are still greatly outnumbered by their female counterparts. CHINA DAILY
Wang Jiaming, a 34-year-old male teacher at the school, is a proponent of team-based learning, and has been busy helping his female colleagues with organizing activities. He similarly said that it is important to have a good mix of male and female educators involved in a child's education.
"A female teacher could be the caring mother figure while the male teacher would be the brave, masculine figure and this helps to create a harmonious family atmosphere in the kindergarten for the children," said Wang.
According to Chen, male teachers like him and Wang adopt the pedagogy of being "playmates" to the children instead of establishing a conventional teacher and student relationship. He also noted that the male teachers often encourage a child to stand up on his own after a fall, as compared to the women who would almost immediately offer a helping hand and comforting words.
"Us male teachers prefer to let the kids try new things and obtain physical knowledge and abilities by taking on frequent sporting activities," said Chen.
"I believe that being tough and having strong teamwork spirit is essential to a child's development. This is why I also design some family-friendly games to help more parents, especially the father, play a more pronounced role in their children's lives during their spare time," said Chen.