Premier Li Keqiang took time out from his jam-packed schedule last week to get a firsthand look at the developments in Hainan province's tourism industry.
The premier landed in Sanya on Tuesday to attend the inaugural Lancang-Mekong Cooperation Leaders' Meeting before heading to the Boao Forum for Asia on Thursday.
Yet before the meeting, he dropped into a tourism development center in Sanya that provides information and assistance to the many domestic and international visitors who arrive each year on the tropical island.
"Modern tourism should not be seen as a tertiary industry," he said while chatting with staff members. "Hainan should make efforts to boost tourism, as well as drive development in other local sectors."
Tourists made nearly 15 million overnight visits to Sanya last year, according to official data.
The State Council has introduced several favorable policies to support Hainan's tourism development, including allowing offshore duty-free and relaxed visa rules.
Now, tourism accounts for roughly 15 percent of the local economy. However, the province ranks 28th in China in terms of GDP.
Zhang Guangrui, head of tourism research at the Chinese Academy of Social Sciences, said Hainan needs to figure out a unique way to win tourists' attention, especially international visitors.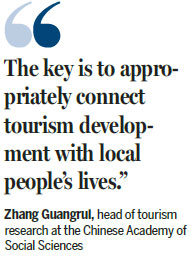 "For years the island has focused too much on building real estate, such as luxurious hotels and high-priced restaurants that locals can't afford," he said.
He believes Li's visit shows the government's resolve to boost tourism, which will play an important role as China transitions toward a consumption-led economy.
"The key is to appropriately connect tourism development with local people's lives," he said. "Hainan used to rely mostly on fishing and agriculture, but now improvement are needed in areas of talent attraction, infrastructure and regulation to make it an international tourism destination."
Before returning to Beijing on Friday, the premier also visited the Chengmei International Medical Center at Hainan Cancer Hospital.
The clinic has benefited from several policies introduced by the State Council last year, including a relaxation of rules about overseas medical practitioners and the importation of medicines and medical equipment.
The center collaborates with institutions in the United States, Sweden, the United Kingdom and Germany. At the time of Li's visit, its medical workers were on a video link with experts at the University Medical Center Hamburg-Eppendorf to consult on a 68-year-old patient from Beijing with lung cancer.
The hospital treats many elderly people from northern China who migrate to the southern island during the winter months.