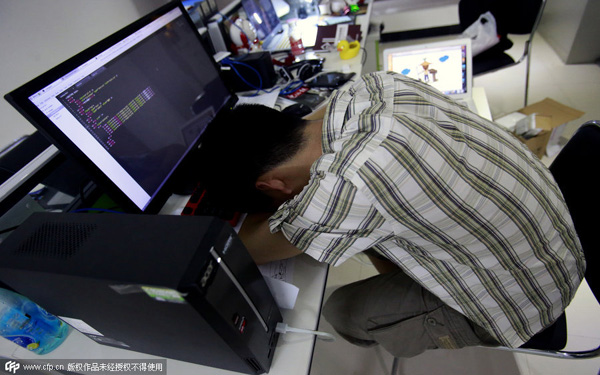 A software developer takes a break in his office in Wuhan, Central China's Hubei province, April 28, 2015. [Photo/VCG]
Nearly 95 percent of 400,000 white-collar workers examined last year in Shanghai were found to have health problems, a record high in the past five years, and many of them were overweight, a report said.
The number of overweight workers rose from 15 percent in 2011 to 33 percent last year, and half of all men were found to be overweight, according to the report released by the health management center and the human resources development research center of Shanghai Foreign Service Co.
Besides being overweight, thyroid disorders and fatty livers were among the top problems.
The number of workers found to have health problems has risen each year, from roughly 87 percent in 2011, the report released on Thursday said.
Breast diseases were the top threat to women, according to the report. Nearly 85 percent of the women had hyperplasia, or an increase in cells, of the mammary glands, a condition that can happen in connection with illnesses. The number was 52 percent in 2011.