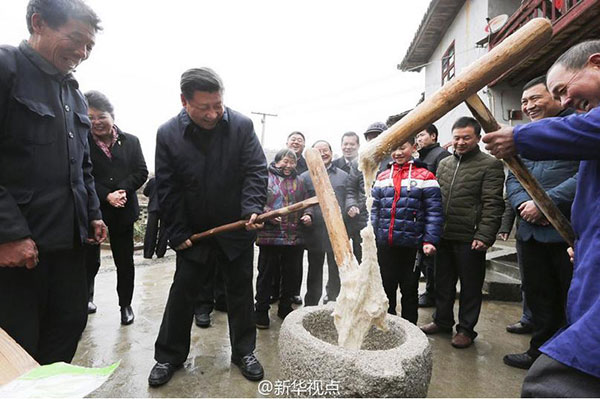 President Xi pounds cooked glutinous rice to make Ciba with local villagers in Jiangxi on his three-day visit to the eastern province. [Photo/Xinhua]
As the annual Spring Festival or Chinese New Year approaches, President Xi Jinping paid a three-day visit to East China's Jiangxi province.
The tour took Xi to Ji'an, Jinggangshan and Nanchang, where he visited villages, enterprises, schools, local communities and revolutionary base museums, and extended holiday greetings to all citizens and military personnel.
Besides, President Xi also made Ciba, a local festive snack, with residents. If you don't know what Ciba is, here is a handy guide.
What is Ciba?
It is a sticky traditional Chinese snack made with cooked glutinous rice paste. It may take the shape of balls or cakes with various seasonings.