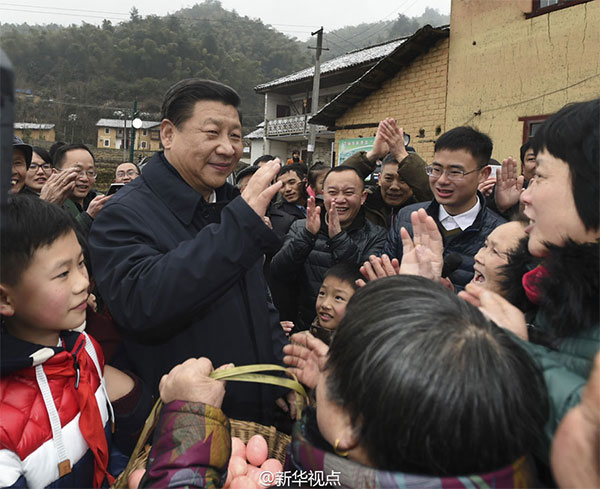 President Xi pays a three-day visit to Jiangxi. [Photo/Xinhua]
NANCHANG - Chinese President Xi Jinping has called for a change in local government development concepts on a visit to East China's Jiangxi province.
Xi made the remarks during a three-day tour of the revolutionary base areas, which took him to Ji'an, Jinggangshan and Nanchang, just days ahead of Spring Festival, Chinese New Year.
Chinese leaders traditionally visit ordinary people in both urban and rural areas ahead of the holiday.
He asked officials to uphold and implement the newly identified development concepts -- innovation, coordination, green development, opening up and sharing, as well as to deliver structural reform on the supply side and industrial upgrades.
He also urged local governments to protect the environment and strike a balance between economic growth and conservation.
During his trip, Xi visited villages, businesses, schools, community groups as well as revolutionary base museums in Jiangxi, extending holiday greetings to all Chinese citizens.
He also met with senior military officers stationed in the province, two days after the People's Liberation Army (PLA) was regrouped into five theater commands.