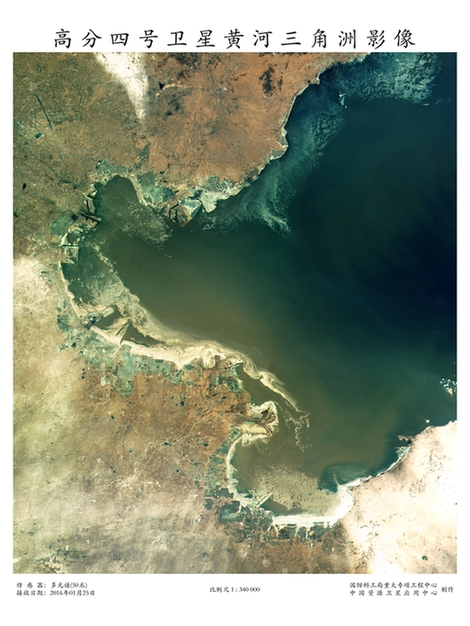 The Yellow River Delta is captured by Gaofen-4 on Jan 25. [Photo provided to chinadaily.com.cn]
Tong Xudong, a senior official at the administration who oversees the Gaofen program, said Gaofen-4 is able to cover China and the whole of Southeast Asia and can shift among multiple targets in a short period of time. It is capable of monitoring a designated area around-the-clock while sending back images in almost real-time.
By now, images and data generated by Gaofen satellites have benefitted around 1,800 government departments, institutes and companies in 18 sectors while 21 provincial-level regions have set up a Gaofen data applications center, Tong said.
China launched the Gaofen project in May 2010 and has listed it as one of 16 nationally important projects in science and technology.
Gaofen-1 was sent into space from the Jiuquan Satellite Launch Center in Inner Mongolia in April 2013. Another four Gaofen satellites were launched in 2014 and 2015.
The next in this satellite family, Gaofen-3, will be launched this year, he added.