The Chinese mainland will work to maintain peace and stability across the Taiwan Straits and contain "Taiwan independence" activities, the nation's top political adviser said on Tuesday.
"We will unswervingly uphold the principles and policies decided by the central leadership on Taiwan affairs, adhere to the one-China principle, firmly oppose and contain 'Taiwan independence' separatist activities in any form, safeguard national sovereignty and territorial integrity and push forward the peaceful development of cross-Straits relations," said Yu Zhengsheng.
Yu, chairman of the National Committee of the Chinese People's Political Consultative Conference, made the remarks at an annual meeting of central and local officials in charge of Taiwan affairs.
In the past year, the central leadership has accurately analyzed and grasped the cross-Straits situation, and it has actively boosted the development of relations between the two sides, he said.
The influence of the first meeting between cross-Straits leaders in 66 years, which was held in Singapore in November, was felt around the world, Yu added.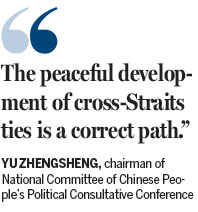 The two sides have set up the institutional framework for communication and cooperation that has benefited people on both sides of the Straits, based on adherence to the 1992 Consensus and opposition to "Taiwan independence", since 2008, Yu said.
"The peaceful development of cross-Straits ties is a correct path, and no one can resist the trend," he added.
The mainland will increase exchanges with Taiwan parties and groups that uphold the one-China principle in an effort to safeguard the political foundation shared by the two sides, according to a statement issued after the meeting.
Efforts will be made to promote economic integration across the Taiwan Straits, including industrial and financial cooperation, and to benefit as many small businesses, farmers and fishermen as possible.
More measures will be adopted to facilitate exchanges in culture, education, tourism and religion across the Straits, according to the statement.
The authorities also vowed a harsh crackdown on corruption among officials working on Taiwan affairs.
Gong Qinggai, deputy head of the Taiwan Work Office of the Communist Party of China Central Committee and the Taiwan Affairs Office of the State Council, has been placed under investigation for "serious disciplinary violations," the top anti-graft body said last month.