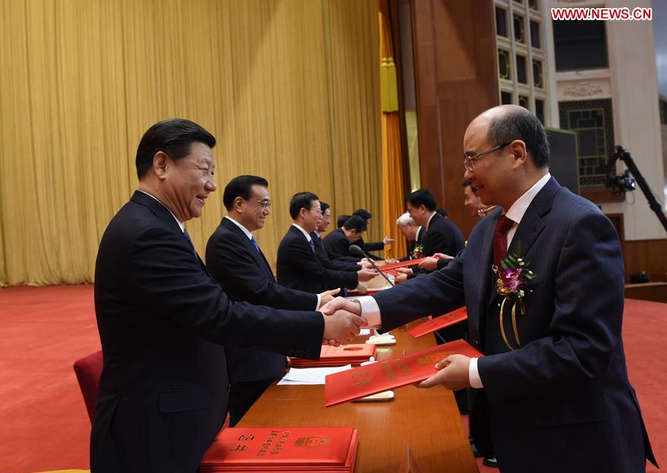 Chinese President Xi Jinping and other top leaders present awards to winners at China's State Science and Technology Awards ceremony at the Great Hall of the People in Beijing, Jan 8, 2016. [Photo/Xinhua]
BEIJING -- China gave awards to outstanding domestic and foreign scientists Friday, amid a government campaign encouraging innovation and more sophisticated industry.
The awards were presented by state leaders including Xi Jinping, Li Keqiang, Liu Yunshan and Zhang Gaoli at the annual ceremony.
Premier Li Keqiang said innovation should be placed at the core of national development to maintain economic growth.
Li vowed to nurture new drivers of growth while upgrading traditional industries. He said China will establish more labs, "innovation centers" and other infrastructure for scientific research, nurture internationally competitive sci-tech enterprises and encourage mass entrepreneurship.
Li highlighted the need to reduce overcapacity and connect traditional industries with the Internet.
While asking governments to cut red tape, the premier talked up crowd sourcing and crowd funding as means to finance innovative projects.
The 2015 science awards were granted for 295 research achievements, including 42 "natural science" prizes, 66 "technological invention" prizes, and 187 "sci-tech progress" prizes.
However, the top accolade, the winners of which each get 5 million yuan ($762,000 dollars) for groundbreaking work seen as bringing about huge economic or social benefit, has been left vacant this year.
None of the three nominees achieved the 50-percent share of the votes necessary from the voting committee for the prize to be awarded, according to the National Office for Science and Technology Awards.
This is the second time after 2004 that the top prize has gone to nobody.
Chinese pharmacologist Tu Youyou, who won the 2015 Nobel Prize, was not among the three nominees as no individuals or organizations had nominated her, said an unidentified official with the office.
"We have strictly followed the procedure of selecting prize winners," the official added.
Twenty-five scientists have received the top award in the past 15 years, including "father of hybrid rice" Yuan Longping and nuclear physicist Yu Min.
Pan Jianwei and his team from the University of Science and Technology in Hefei, Anhui Province, won the award for natural sciences for their research on quantum teleportation technology.
Of the prize winners in sci-tech progress, two won top honors. Chinese oil refiner Sinopec won for environmentally-friendly production of arene, an important chemical widely used in medicine and pesticide manufacturing. The other went to the Beijing-Shanghai high-speed railway.
Vice Premier Zhang Gaoli encouraged scientists to take inspiration from the award winners.