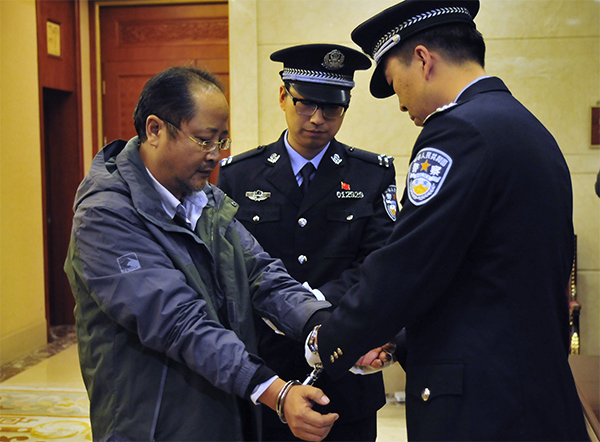 Police escorts Pei Jianqiang who was brought home from the Republic of Guinea at Beijing Capital International Airport, Jan 1, 2016. [Photo/Xinhua]
BEIJING -- One of China's most-wanted fugitives suspected of bribery was brought home on Friday from the Republic of Guinea, following cooperation between the two countries' law enforcement departments.
Pei Jianqiang, 48, former director of import and export department of China Enterprise International Cooperation Co, was suspected of bribery and fled in November, 2009.
China launched a "Sky Net" campaign in April, 2015, with aims to bring back 100 suspects who were accused of economic crimes and have fled overseas. Pei was listed as the No. 10 suspect.
Law enforcement officials from China and Guinea collaborated on the investigation, which confirmed that Pei was hiding out in Conakry, capital of Guinea, and running a bath center.
Pei was arrested on Dec 25 and sent back to Beijing Friday afternoon.Operation Sky Net launched
In December, Huang Yurong, former Party chief of Henan Provincial Highway Administration and another fugitive on the list, surrendered herself to the police and returned from the United States where she had fled in 2002.