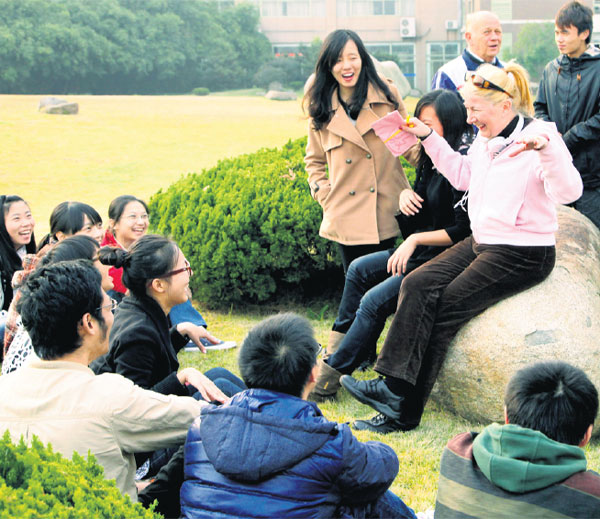 A foreign teacher gives an outdoor lecture to students at Zhejiang University of Finance and Economics. Provided to China Daily
Internationalization is a hallmark of school's drive for recognition at the highest levels
Founded in 1974, Zhejiang University of Finance and Economics has great ambitions to strengthen its competitiveness in cultivating talent, both for its domestic and overseas students. Taking economics and management as its core disciplines, the university is developing successfully with diverse fields of study, as Yan Yiqi in Hangzhou reports.
Internationalization has become a hot word for Chinese universities in recent years, and Zhejiang University of Finance and Economics is taking big steps overseas to strengthen its competitiveness in cultivating talent.
Li Jinchang, the university's president, said that despite the late start, international exchange and cooperation are integrated into every aspect of the school.
"Communication and cooperation with foreign universities have been important elements of the university's development, becoming a driving force in enhancing its comprehensive strength," he said.
Two financial programs were recently accredited by the American Chartered Financial Analyst Institute, which provides credentials to qualified financial professionals internationally.
The Zhejiang university is the first provincial-level one in China that has gained approval for two programs at the same time.
In the latest international unified CFA exam, which is considered difficult, the passing rate of the first CFA class reached 89 percent, which is much higher than the international average of 42 percent.
"It can help the university train more financial professionals who will be competitive in worldwide financial circles," Li said.
The university hopes international cooperation can help cultivate its students in every possible way.
"Against the background of globalizing education, such cooperation is bringing in advanced educational ideas, new management systems, good teachers and great curriculum materials," Li said.
There are now three programs at the university that are cooperatively run with foreign educational institutions in majors like marketing, finance and accountancy.
Li said the university is aiming at becoming internationally well-known, not only for its graduates but also for its academic achievements.
"As a finance and economics university in Zhejiang province, we have a clear understanding of our own position," he said. "By saying internationally well-known, we are now referring to top Chinese universities like Peking University and Tsinghua University. We are going to make breakthroughs in academic fields that we excel in."
Li said studies on the Chinese financial industry and research on governmental regulation are two possible areas where the school could achieve breakthroughs in the global academic field.
The university established the China Academy of Financial Research in October to focus on seven aspects of the financial industry.
"We have invited famous economists from home and abroad to give lectures to students of this academy," said Li. "The lecturers include tenured professors from Columbia University and Harvard University."
Li said the university is determined to develop the academy into a high-end think tank to serve financial reform and innovation in China.
In addition to the newly established academy, the university is also reaching out with its China Institute of Regulation Research.
The latest international cooperation program is the Sino-Italian Food Security Supervision Research Center with the University of Pisa in Italy. The two sides cooperate on course offerings leading to postgraduate degrees, carrying out scientific experiments and research, and then carrying their achievements worldwide.
Alessandra Guidi, vice-rector for internationalization at the University of Pisa, said that food security and safety has become a global challenge now, and every country attaches great importance to it.
"This is an important program that both sides will work together on," she said.
"We will share our experience in this field with our Chinese counterparts via this platform."
Li said that in addition to such international programs, the university is also in discussions with Loughborough University in the United Kingdom on establishing a Sino-UK Business School.
"I believe that within five or 10 years, alumni of Zhejiang University of Finance and Economics will be working excellently in places like Wall Street," he said.
Q&A
Q: What are your expectations for graduates of the university?
I hope they can make full use of what the university has taught them, not only knowledge but also how to be a better person. I encourage them to study abroad after graduating, but I also hope that after finishing their studies in foreign countries the excellent graduates can eventually come back to China and share their knowledge with younger ones.
Q: What is your understanding of globalization for a university?
Globalization is not a simple matter of inviting foreign experts in to give lectures. It is a two-way program. We also need to send out teachers and students to have a real-life experience of globally advanced education. We have sent nearly 400 Chinese teachers on exchange trips to foreign countries such as the UK, the US, Germany, Australia and Japan. A wide horizon is important for university teachers.
Q: How do you position your university?
As a provincial-level university of finance and economics, our goal is to become an innovation-oriented university that is able to cultivate top talent in the financial sector and become a regional research center for studying economics and management. Also, I hope alumni of our university will contribute to important economic and financial centers around the world.