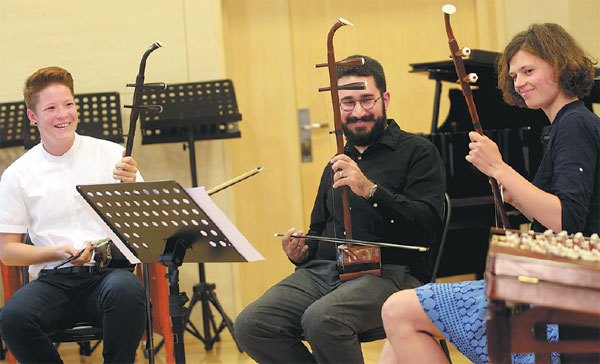 Students fromthe United States and Germany play erhu at a summer camp hosted by the Music Confucius Institute Office at the Central Conservatory of Music in Beijing in July. Zou Hong / China Daily
A platform for nurturing talented people who can use foreign languages to teach traditional Chinese music at Confucius Institutes abroad should be set up to meet the increasing demand, experts said.
As of this month, 500 Confucius Institutes have been established in 134 countries around the world. Many are in need of teachers who can teach Chinese music, according to Ling Zi, former associate executive editor of Little Performer Magazine, who has visited many Confucius Institutes in United States in recent years.
"From my communication with the directors of those institutes, I know that for a long period of time they have focused only on the teaching of Chinese language and a general concept of Chinese culture," she said. But many lack musical elements.
The good news is that they are realizing that traditional Chinese music can act as a gateway for people overseas to get to know Chinese culture, as an increasing number of foreigners learning at Confucius Institutes are expressing musical aspirations, Ling said.
"Many Confucius Institutes are asking for quality courses, textbooks and teachers for traditional Chinese music," she said.
In response to the need, and supported by the Confucius Institute Headquarters/Hanban, the Central Conservatory of Music in Beijing and the Royal Danish Academy of Music in Denmark jointly established the first Music Confucius Institute in 2012.
Since then, the music institute has dispatched several of its teachers and graduate students as volunteers to teach Chinese music and traditional Chinese musical instruments in Denmark using English.
The instruments taught at the Royal Danish Academy include the yangqin (Chinese dulcimer), guqin (a seven-stringed zither), erhu (two-stringed fiddle), pipa (a four-stringed Chinese musical instrument), guzheng (a Chinese 21- or 25-string plucked instrument) and sanxian (a three-stringed plucked instrument).
The development of Confucius Institutes, and especially the establishment of the music institute, has generated a need for a new type of talent, said Zhang Lexin, project manager of the Central Conservatory's music institute office.
"In the past, Confucius Institutes around the world mainly favored talent with backgrounds in language studies or education," Zhang said. "Now, interdisciplinary talent with a combined background of language and music is preferred."
But such talent is in short supply, said Liu Yuening, director of the music institute office.
"Our domestic music education pays more attention to sharpening students' musical knowledge and skills; therefore most of our students only focus on their instruments while ignoring the study of other subjects such as foreign languages, Chinese history, culture and diplomatic protocol, which are equally needed when popularizing traditional Chinese music abroad," said Liu, who is also a yangqin musician and a professor at the conservatory.
"The result is that they may become good players, but their ability to teach Chinese music to foreign people has yet to be improved," Liu said.
To change the situation, Liu has proposed the establishment of a comprehensive platform, where barriers between music and other subjects could be broken and resources could be gathered to nurture interdisciplinary talent - people who, on one hand, have mastered Chinese music and Chinese musical culture, and on the other can teach Chinese music using foreign languages.
She also suggested setting up a special fund to support the spread of traditional Chinese music overseas. The Ministry of Culture is backing her proposal through a project called the National Endowment for the Arts, launched at the end of 2013.