Walk around Hong Kong's bustling hangout hot spots on these still-balmy winter evenings, and you find Christmas jollity in full swing. Though for shopping malls and supermarkets here the season to be jolly started well before the Thanksgiving turkey leftovers were even disposed of, carols going "Jingle Bells" and "Fa la la la la" on an endless loop while you picked out the day's veggies.
This is likely the most popular festival around the world, not only because of baby Jesus in a manger but also everything else that it stands for, no matter what culture we belong to or adopt.
Think of the Christmas spirit and it's a time for joy and celebration, of a verdant tree all lit up against the wintry barrenness outdoors, its base laden with presents. It's about the coming together of families and friends, of kindness to strangers, Nativity scenes, and of course Santa Claus. Santa, or Father Christmas, is really the mascot of the season, especially for children, whether naughty or nice.
And that spirit in all its true meaning was brought home to one little girl in Middlesborough, England, who will surely never need to ask mummy if Santa's real, because for her, he is as real as can be, and even speaks her language.
Three-year-old Mali stood in line at a shopping center just like so many millions of kids around the world this time of year, waiting to be lifted onto Santa's lap and tell him what they want for Christmas. But she looks away waving to her parents, and her mother says: "Sorry she can't speak very well." Unfazed, Santa asks: "Can she sign at all?" and taps the little girl on the arm to get her attention. Mali beams as he then proceeds to sign to ask if she would like a doll for Christmas, and the delighted child reveals that all she wants for Christmas is a scooter.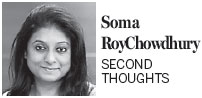 Her beaming face and the obvious joy of her mother off-camera is now melting hearts around the world and would surely make even crusty old curmudgeons channeling Ebenezer Scrooge forget their signature "Bah! Humbug!" retort.
I discovered the touching video on the website of a British newspaper, and later read that a staff member at the mall had uploaded the clip onto YouTube where it has amassed more than 2.6 million views and counting. It brought a tear to my eye, and I found I was not alone in reaching for my box of tissues, given the often blubbering comments piling up on YouTube.
Little Mali has trouble with her hearing and speech, but that makes her only more special to Santa and indeed to all of us sharing this heartwarming moment as her smile brings home to us anew the true meaning of festive cheer, whatever the name of our festival and wherever it is marked in the world.
As the tagline for that credit card company goes: Priceless!
Merry Christmas, everybody.