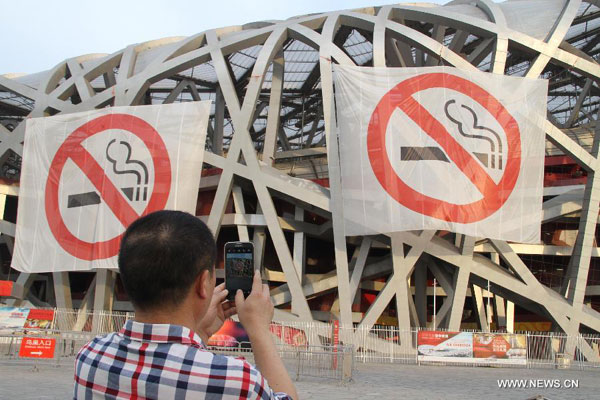 Non-smoking banners are displayed on the iconic Bird's Nest National Stadium in Beijing, capital of China on June 1, 2015. [Photo/Xinhua]
The World Health Organization (WHO) launched a social media campaign in Beijing on Wednesday reminding smokers that they cannot smoke in indoor public areas, despite current sub-zero temperatures.
During the launch, the WHO released 19 new posters highlighting the serious harm caused by second-hand smoke, and expressing gratitude to smokers for not smoking indoors. The campaign slogan "#RUFREE?" means "Are you smoke-free? and do you support smoke-free environments?" and the public are encouraged to relay the messages via social media such as Weibo.
"We know winter will make enforcement of the smoke-free law more challenging, as the cold weather will make it less convenient for smokers to get their tobacco fix. But we don't want smokers to conveniently forget about the smoke-free law! That's why we are launching this new campaign this week," said Bernhard Schwartländer, WHO representative in China.
According to data released by the Beijing Municipal Commission of Health and Family Planning, health law enforcement authorities in Beijing punished 217 businesses and fined 598 smokers by the end of October for violation of a new tobacco control regulation, which took effect on June 1.
The regulation bans smoking in all indoor public areas, such as restaurants, bars and office buildings, and in some outdoor public areas. It is considered the toughest tobacco control regulation adopted in China.
Zhang Jianshu, chairman of the Beijing Association on Tobacco Control (BATC), said: "Creating a smoke-free Beijing is a long-term, continuing process. We have achieved much to date, as a result of strong public support. Now, we need to continue with our public campaigns to further educate the public about the harm of second-hand smoke, to further increase support for the Beijing smoke-free law, and to encourage smokers to quit. We need to lodge the idea of 'smoke-free Beijing' firmly in people's hearts."
BATC volunteers will be active around Beijing every Wednesday in support of the smoke-free law, with each volunteer having committed to dissuade at least three people from smoking in public places, to investigate three public places that should be smoke-free and to distribute tobacco control publicity materials.
"The army of tobacco control volunteers BATC has amassed, and the important role they are playing in supporting the Beijing law demonstrates how powerful grassroots action is in support of smoke-free policies. Not only will this help entrench smoke-free as the norm in Beijing, but it is helping build momentum for a national smoke-free law – so that all of China can look forward to a healthy, smoke-free future," Schwartländer said.