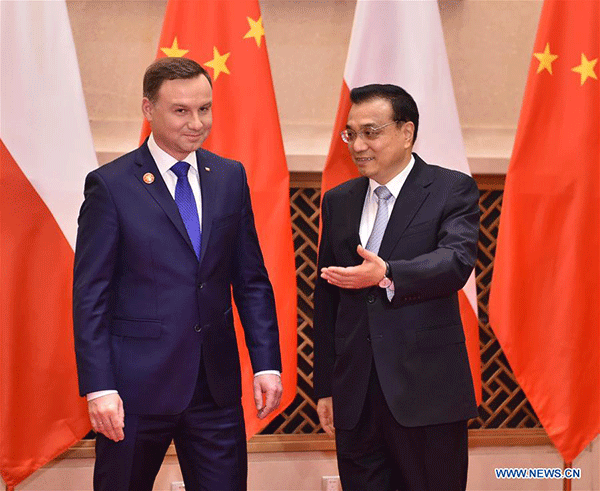 Chinese Premier Li Keqiang (R) meets with Polish President Andrzej Duda in Suzhou, east China's Jiangsu Province, Nov. 24, 2015. Andrzej Duda was in Suzhou to attend the fourth leaders' meeting between China and Central and Eastern European countries.[Photo/Xinhua]
SUZHOU - China and Poland on Tuesday pledged to cement economic and trade relations and step up cooperation in infrastructure.
In a meeting with Polish President Andrzej Duda, Chinese premier Li Keqiang highlighted closer high-level exchanges, growing mutual political trust and enhanced practical cooperation.
He said China attaches great importance to its ties with Poland and is willing to develop the strategic partnership.
Li expressed his hope that the Polish government would continue its friendly policy towards China. Both sides should work together to put bilateral ties at the vanguard of relations between China and Central and Eastern Europe (CEE) and that of China and Europe at large, he said on the sidelines of a summit meeting of leaders from 16 CEE countries.
The Chinese Premier said China is willing to see both sides draw synergy over their respective development strategies, expand trade and mutual investment, carry out production capacity cooperation and boost collaboration in fields such as infrastructure, transport and logistics as well as clean energy.
He hoped the Polish side could support and actively take part in a new China-proposed initiative to promote cooperation among port areas in the Baltic Sea, the Adriatic Sea and the Black Sea.` China, together with Poland, wishes to foster an important engine for its future ties with CEE countries and the entire Europe via the expanding "16+1" cooperation, Li said.
For his part, Duda, who is on his first official visit to China and will fly to Beijing to meet with his Chinese counterpart Xi Jinping after the Suzhou summit, said he was impressed by China's social and economic development. He said he hoped Poland and the entire Central and Eastern Europe could all benefit from it.
The Polish government wished its country could become an important partner for China in the latter's cooperation drive with CEE countries, Duda said. Cooperation with the world's second largest economy in Poland's transport and energy infrastructure projects should also be further pushed ahead to help with Poland's re-industrialization, he said.
The Polish President went on to list economy and trade, science and technology, culture and education as areas where China and Poland could cooperate in, adding that both sides should also expand trade in agricultural products, and promised to help facilitate investments by Chinese enterprises in Poland.