Comments by Xu Xiujun, associate researcher with the Institute of World Economy and Politics at the Chinese Academy of Social Sciences; comics drawn by Wang Dongjie, Liao Linghui
On November 14, Chinese President Xi Jinping was invited to attend the 10th G20 Summit held in Antalya, Turkey, another major diplomatic activity carried out by China's leaders after the 5th plenary session of 18th CPC Central Committee.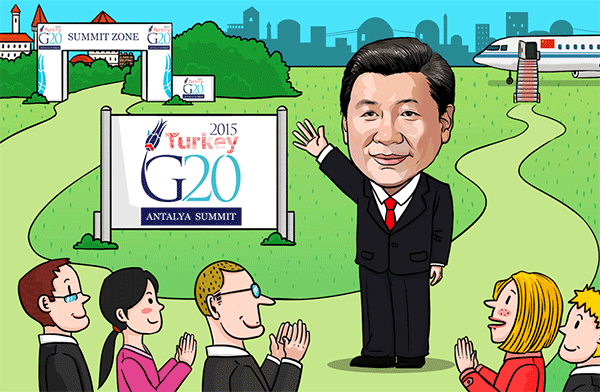 Contributing Chinese wisdom to G20
Xi will explain China's policies for comprehensive reforms and opening up the economy in conjunction with the 13th Five-Year Plan (2016-20).
He will put forward Beijing's initiatives to promote world economic growth, strengthen global economic governance, boost economic restructuring and other worldwide topics as well.
China has been involved in all levels of cooperation under the G20, and has endorsed the reform of global economic governance mechanisms for a stable recovery and development of the world economy after the financial crisis in 2008.
Looking back at the G20 development process, Beijing's initiatives have been a good voice. Chinese wisdom brings new vitality to the G20.
China can benefit the world with Chinese wisdom. Chinese contributions will continue to inject a new impetus to the G20 summit and boost the 2015 Antalya G20 summit along with it.