On November 7, President Xi Jinping and Taiwan leader Ma Ying-jeou will shake hands during their historic meeting in Singapore, where they will exchange views about the development of the cross-Straits relationship. The meeting between Xi and Ma marks a breakthrough in cross-Straits ties and will generate positive momentum for the island region's future policy regarding the Chinese mainland. It has attracted significant attention not only in China but across the globe, as it establishes a solid framework for the world's understanding of the relationship across the Straits.
Though the leaders of the two sides of the Taiwan Straits have never met before, the heads of the Communist Party of China (CPC) and the Kuomintang (KMT) have shaken hands several times over the past decade. As an old saying goes, brothers are still brothers after surviving disasters, and together they have pushed forward effective communication and frank exchange, as we can see today.
April 29, 2005
Hu Jintao: Historic strides made by the two parties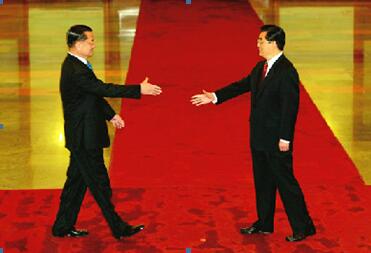 Hu Jintao, then general secretary of the CPC Central Committee, met Lien Chan, then leader of the Kuomintang. In Hu's welcome speech, he characterized Lien's visit as an important event both in the history of the relationship between the CPC and Kuomintang and in the history of cross-Straits ties, saying that the moment Lien set foot on the mainland marked a historic stride by both parties, signifying that communication had come to a new stage and showing sincere determination to improve the cross-Straits relationship.