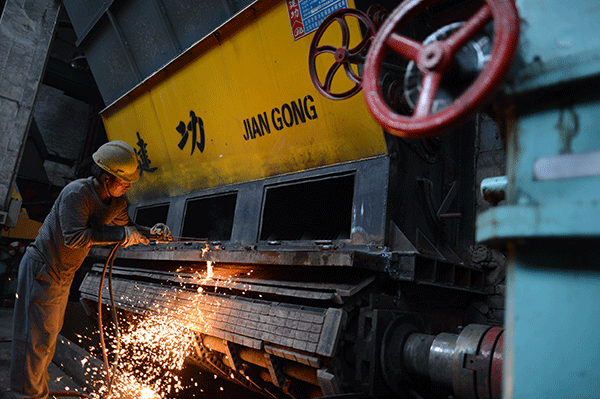 A coal-burning boiler is removed in Beijing in June, as a series of restrictions were introduced to bring more blue skies to the city.[China Daily]
Most new units fueled by natural gas; some on city's fringe to be powered by electricity
Beijing has beaten its target this year for replacing coal-fired boilers with those using cleaner natural gas and electricity, just in time for the beginning of the heating season, the Beijing Environmental Bureau said on Thursday.
By the end of last month, the city had installed new boilers that produced 36 percent more output than this year's goal, the bureau said. That is enough to provide heating for approximately 300,000 average residences.
Beijing is scheduled to turn on heating systems for residential and commercial complexes on Nov 15. The new boilers are expected to reduce coal consumption by 1.47 million metric tons, which would have produced 12,500 tons of sulfur dioxide and 4,300 tons of nitrogen oxides that contribute to smog, said Yan Xiangyang, consultant-director of the aerosphere department of the bureau.
"Six districts in downtown Beijing don't have coal-fired boilers anymore, consistent with the plan to end downtown Beijing's history of coal-fired boilers," Yan said, adding that the municipal government is investing 637 million yuan ($101 million) this year to replace such boilers in 10 other counties and districts in suburban Beijing.
In 2012, the capital consumed 23 million tons of coal, accounting for one-quarter of the city's energy consumption. According to a guideline for the renovation project, coal consumption was set to be reduced to 15 million tons in 2015 and 8 million tons in 2017.
The city's heating system for residential complexes used 4.37 million tons of coal in 2012. All boilers were scheduled to be converted to natural gas or electricity by 2017.
Most coal-fired boilers are being replaced by those powered by natural gas, though engineers have adopted electrical power in suburban Beijing areas where the gas network hasn't reached.
The Beijing Training Center of the Ministry of Environmental Protection in suburban Beijing is one example. A new boiler powered by electricity has replaced one that consumed coal.
The new boiler, which produces 4.2 MWh of energy, cost 7.28 million yuan, 30 percent of which will be subsidized by the municipal government, according to Long Renqin, director of the center.
"The new boiler is much easier to use and more efficient in energy conservation and emission reduction. You just switch it on, as it's powered by electricity, while the old one has to be fueled by burning coal," said Li Liang, director of the center's general office.