Cultivator creates map of China in 30 shades of grain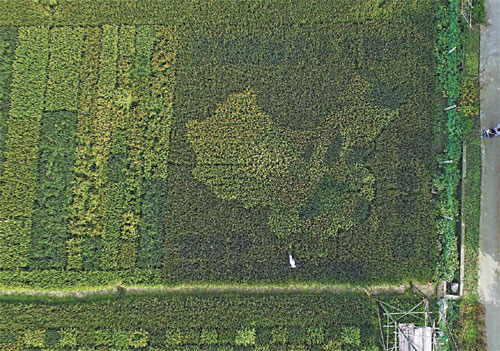 A bird's-eye view of rice paddies, produced by retired rice researcher Chen Jinxiang, which forms a huge map of China in rural Shanghai earlier this month. The map has all China's regions, including Taiwan and small South China Sea islands. Lai Xinlin / for China Daily
A gigantic map of China created through the novel use of colorful rice paddies has been attracting visitors to a farm in rural Shanghai's Jinshan district over the past few weeks.
A 71-year-old retired rice researcher produced the unique living art using 30 varieties of rice, which he cultivated himself, and which ripen to various colors, from green to purple.
"Chinese people cannot live without rice. Now people's lives are getting better and better, which is inseparable from the prosperity of the country. So I drew a map of China with rice of different varieties to show gratitude to the motherland," Chen Jinxiang said.
The map, which covers an area of 700 square meters in Zhonghong village in Fengjing town, can be viewed from an elevated platform. It has distinct edges and outlines of all of China's provinces and autonomous regions, including Taiwan province and small islands in South China sea.
The field also features Chinese characters made of rice varieties that celebrate the 66th anniversary of the country's founding and the "China dream, a colorful dream" idea. The country's National Day fell on Oct 1.
This was Chen's first attempt to make a living painting by using rice varieties. He started his research on rice paddies and seeds in the 1970s. After retiring from the town's agro-technical station, he began indulging in research on rice of different colors, which have slight differences from common species in taste and nutrition.
The color of the rice is decided by the genes, said Chen, who created hybrids of different species to obtain new varieties with different colors.
"The more different the genes of the two varieties of rice are, the more surprising the color of the hybridized new variety can be. But when the difference of the two varieties is very obvious, the rate of failure in breeding a new variety is higher," he said. "The work creates uncertainty and great interest."
The field is Chen's lab. He has cultivated about 800 varieties of rice over the years and successfully obtained 30 varieties with rice ears and grains in different colors. He kept them at his home, which resembles a small rice museum.
"They may look pretty similar to each other on their own, but can form a rich mixture of colors when planted in a large number," Chen said.
In June, he began building the contours of the map with more than 500 wooden poles and straw ropes. The 30 rice varieties were planted across the field.
Chen's daughter Chen Juanhong said her father's love of painting came from a deep family interest in art. "Almost all my family members are painters of the Jinshan-style farmer's painting, which is famous for its bright colors," she said.
zhouwenting@chinadaily.com.cn