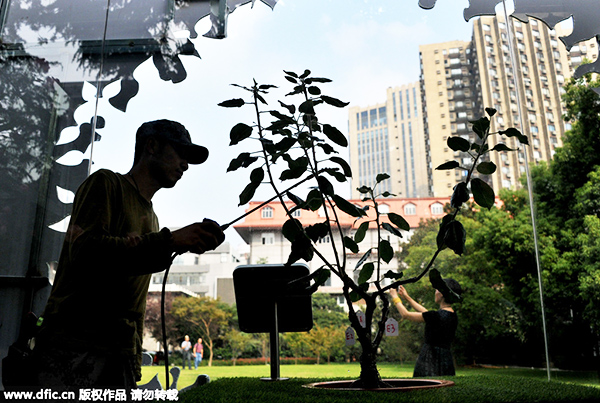 Gardeners look after a tree grafting from the apple tree whose fruit inspired Isaac Newton to discover gravity in Shanghai, Nov 21, 2015. [Photo/IC]
A grafted branch from the tree whose fruit inspired Isaac Newton to discover gravity more than three centuries ago was on show at Shanghai Science Hall on Wednesday.
The bough was chosen from five grafts from Newton's apple tree that came to in China in March. Shanghai scientists suggested last year obtaining them to commemorate and pass on his spirit of innovation.
As part of British national heritage, the famous tree, also known as "Flower of Kent County" is under the protection of the National Trust in Woolsthorpe Manor, Lincolnshire where Newton spent nine years.
In March, the Trust invited representatives of the Shanghai Science and Technology Association to bring the branches to China. The five were then placed in Chenshan National Planting Base and are now growing into saplings.
The exhibition is a part of the Newton Fund (Shanghai) certificate awarding ceremony. After the exhibition the branch will be sent back to the planting base until they are strong enough to root in Shanghai Science Hall.
On the same day, a training program supported by the Newton Fund (Shanghai) was launched. Twenty of 253 Shanghai candidates qualified to take part in training to improve participants' research capacity.