As Chinese society gets older and traditional family values change, new technologies are being employed to provide seniors with quality of life. Zhou Wenting reports from Shanghai.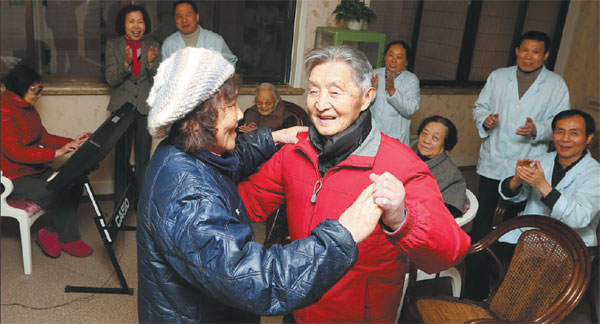 A couple dances in the entertainment room at a nursing home in Shanghai's Hongkou district. Converted from a seven-story hotel, the nursing home can accommodate about 300 people. Pei Xin / Xinhua
The future of senior care in China may soon be represented by a 40-centimeter-high human-shaped robot with a large round screen.
Roby Mini, which can record activity, order groceries and provide entertainment, has been specifically designed for use by elderly people, especially those who live alone.
Shanghai PT Info Co, Roby Mini's manufacturer, said mass production started on Oct 15, ahead of the "Double Ninth Festival" - a traditional celebration of the elderly held on the ninth day of the ninth month of the lunar calendar, which falls on Oct 21 this year - and it plans to manufacture 200,000 units by the end of the year.
Roby Mini isn't the only product aimed squarely at the seniors' market, though. There are also smart watches that can track the wearer's location and can contact family members if they require assistance, and mattresses that can monitor heart rate and blood pressure and alert medical professionals in the event of abnormal fluctuations.
Experts believe a new smart age has arrived, one that could help cities such as Shanghai - China's first city to have an advanced aging population - address the issue of caring for the elderly at a time when families are becoming smaller and familial care for seniors is under serious pressure.
Official statistics show that last year the number of registered Shanghai residents age 60 and older hit 4 million, accounting for nearly 30 percent of the city's population. Nationally, the proportion was 15.5 percent.
"The contradiction between the rapid growth of the elderly population and the shrinking ability to care for seniors because of a smaller family structure will become more severe because the rate will accelerate. Experts predict that the city's elderly population will rise to 5 million (roughly twice the population of Paris) by 2018," said Zhen Jin, deputy director of the Shanghai Municipal Commission of Health and Family Planning.
Yin Zhigang, director of the Shanghai Research Center on Aging, said smart products for seniors will become indispensible. "Because the family is still the primary care provider for elderly people, the trend of 'intelligentized' products making up for the deficiencies of family care will become irresistible and play a crucial role in caring for the elderly. Technology will gradually become a backbone in this respect," he said.
Shanghai PT Info spent three years developing Roby Mini's voice-interaction system to make it especially user-friendly for seniors, many of whom have poor eyesight, which makes it hard for them to operate controls or read onscreen instructions.
At present, the robot, which costs 4,000 yuan ($631), understands at least 95 percent of its owner's words from as far as 2 meters away. Shanghai PT Info is now trying to extend the distance to 5 meters.
"As the majority of seniors don't speak standard Mandarin, we are improving the robot's ability to recognize dialects to improve its in speech-recognition capabilities," Hong Gang, the company's technical director, said.
A number of 360-degree wheels hidden under its body allow Roby Mini to follow its owner via face-recognition software, and it can also start conversations, tell jokes, broadcast music and provide information, such as weather forecasts and the air quality index. Seniors just need to tell the robot what to do, and it will follow their instructions.
Roby Mini can also support long-distance audio and video calls from family members who wish to check on elderly relatives. Hong said the company is planning to develop an automatic-charging function, so the elderly owners will not have to remember to charge their robots.
Zhang Min, director of Kangcheng Nursing Homes in Shanghai's Minhang district, said products such as Roby Mini, based on deep consideration of seniors' daily requirements, will be helpful as companions and will also remind the owners of appointments or chores they need to undertake.