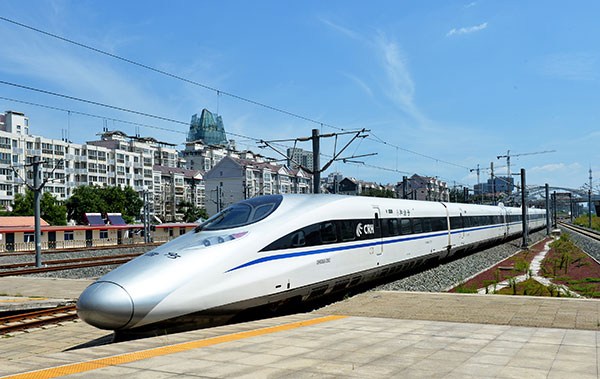 A high speed train heading to Yujiabao Station leaves Tianjin Railway Station in August, marking the extension of the Beijing-Tianjin intercity to Yujiabao in Tianjin's suburban Binhai area. Yang Baosen / Xinhua
As part of the transportation integration process in the Beijing-Tianjin-Hebei cluster, local authorities have strengthened efforts to improve the civil aviation network to enable it to meet customer demand.
Beijing is building its third civil airport - the Daxing International Airport - which will be the second-largest capacity airport in the city, following the Beijing Capital International Airport. The facility, located adjacent to Daxing district in Beijing and Langfang in Hebei province, will be operational in 2019 and is expected to carry 120 million passengers by 2050.
Meanwhile, Tianjin Binhai International Airport and Shijiazhuang Zhengding International Airport have already taken measures to diversify their services and facilitate journeys.
Tianjin Binhai is building offsite departure stations or lounges in Beijing, Tianjin and Shandong province, where passengers will be able to check in before boarding flights at the airport, which has become a hub for low-cost airlines.
Spring Airlines, listed on the Shanghai Stock Exchange, operates flights to neighboring countries, such as South Korea and Japan, from Tianjin. An increasing number of travelers are using the high-speed rail link between the Beijing South Railway Station and Tianjin to take advantage of the company's lower ticket prices, compared with those at the Beijing Capital International Airport.
In April last year, Shijiazhuang Zhengding International Airport in the capital of Hebei province, two hours from Beijing by bullet train, began an airline-railway alliance service to lure passengers away from the more-popular facilities in Beijing and Tianjin.