In today's trending, a man loves to devour up to 2.5 kg of red pepper daily, a scaled-down version of Venice is the basis of a completed real estate development in Northeast China, and vigorous exercise keeps a 93-year-old man healthy and fit.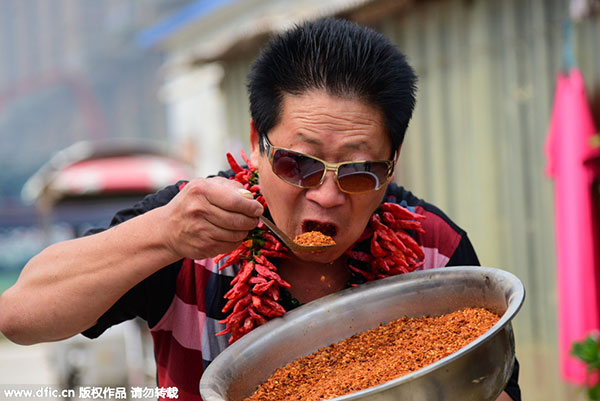 Li Yongzhi takes a spoon of red pepper powder. Photo taken in Zhengzhou, capital city of Central China's Henan province, Oct 18, 2015. [Photo/IC]
Pepper-addicted man eats 2.5kg pepper everyday
The first thing Li Yongzhi does when he gets up every morning is to have a handful of pepper before brushing his teeth.
Pepper is like any other snack for Li, who likes to eat anywhere, anytime and whatever he wants. He is able to consume up to 2.5 kilograms of pepper daily, according to icpress.cn. "I can eat without having eggs and meat at every meal, but not without pepper", Li said.
He said he started to eat pepper 10 years ago and has a very healthy body - "no different from any other people".
Li has been crowned in quite a few chili challenge contest across the country, and now he runs a pepper planting base in his hometown, where he grows the spiciest peppers in the world.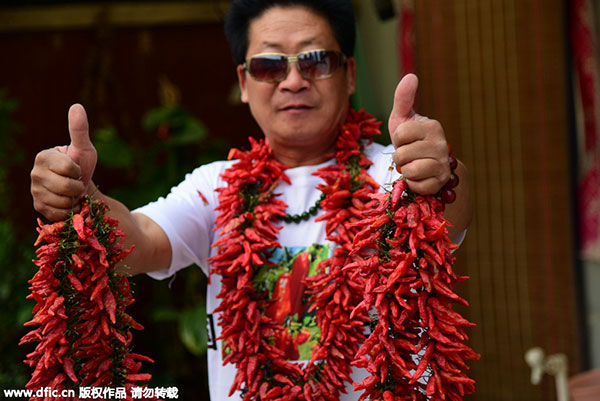 Li poses with strings of red pepper he grew in front of his house in Zhengzhou, Henan province, Oct 18, 2015. [Photo/IC]
In our next story, you don't have to travel to Italy to see Venice. A scaled-down version is open as a real estate development in Dalian.