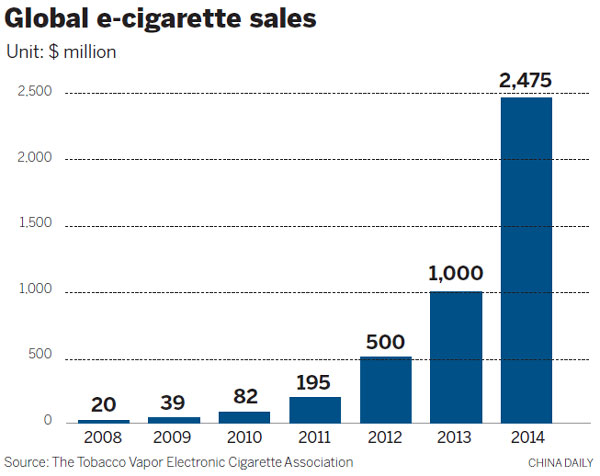 Youth appeal
Zhang warned the public, particularly young people, to be wary of "rampant media hype" that markets e-cigarettes as an aid for people who want to quit or control smoking, or as a "cool" accessory.
This emerging threat has been felt in other countries, such as the US, where the use of e-cigarettes among middle and high school students tripled last year from 2013, according to the US Centers for Disease Control and Prevention and the Food and Drug Administration's Center for Tobacco Products.
Findings from the 2014 US National Youth Tobacco Survey showed that the use of e-cigarettes-defined as at least one day in the past 30-among high school students rose to 13.4 percent last year from 4.5 percent in 2013, or from about 660,000 students to 2 million.
Use among US middle school students at least tripled to 3.9 percent last year from 1.1 percent in 2013, which translates as 450,000 students from 120,000. It was the first time since 2011, when the survey began collecting data on e-cigarettes, that their use has surpassed that of conventional cigarettes.
Last year, the World Health Organization published a report urging a ban on the use of e-cigarettes indoors and called for tougher controls. The report concluded that there is little evidence e-cigarettes help smokers to quit, and they pose a "toxicant emissions" risk to nonsmokers nearby.
"Legal steps need to be taken to end the use of e-cigarettes in public indoor spaces and workplaces, and their sale to children should be banned," the organization said. The WHO recommended that producers should not be allowed to advertise the devices as 'smoking cessation aids' until they can provide scientific evidence. It also called for a ban on liquid tobaccos flavored with sweet-tasting fruits or alcohol, which may encourage young people to try e-cigarettes.
Current regulations
The regulation and management of e-cigarettes varies from country to country, according to Gan from the International Union against Tuberculosis and Lung Disease.
Brazil banned e-cigarettes in 2009, but they can still be bought online or via the black market. Canada followed suit in the same year by prohibiting domestic sales of e-cigarettes that contain nicotine. In 2013, Spain became the first country to ban their use in public places.
In the UK, the product has been regulated by the health authorities since June 2013. However, a recent study commissioned by the UK Department of Health concluded that electronic cigarettes are around 95 percent less harmful than conventional tobacco and should be promoted as a tool to help smokers quit.
Margaret Chan, the WHO's director-general, expressed concern and urged caution. "E-cigarettes will prompt young people to take up smoking. I recommend that national governments ban, or at least regulate, them," she said.
Douglas Bettcher, director of the WHO's Department for the Prevention of Noncommunicable Diseases, called for more research. "We want to maximize the potential health opportunities and minimize the number of nonsmokers taking up e-cigarettes," he said.
China plans controls
Mao Qun'an, spokesman for China's National Health and Family Planning Commission, said the government is planning a pre-emptive strike to protect the public from e-cigarettes, and will soon regulate their production, sale and use.
"E-cigarettes have rapidly become popular throughout the world, but the health authorities will coordinate the related agencies and lobby for regulation of the sector," Mao said. however, he conceded that uncertainties still exist regarding issues such as who will be targeted and the measures that will be taken.
He said more research is required to discover an effective solution, but insisted that new regulations will be formulated soon: "China will act quickly to protect her people, especially as this is a crucial time for general tobacco control in the country."
Contact the writers at shanjuan@chinadaily.com.cn and wangxiaodong@chinadaily.com.cn